Equestrian & Livestock Surfaces
Showing all 2 results
Strong and versatile range of rubber equestrian surfaces and livestock flooring
Here at GCL Products we stock a range of rubber surfacing products ideal for use in the equestrian and livestock market. We have sourced the best stable mats available to ensure we provide quality products for our customers. Our rubber stable mats are the ideal choice for a wide range of applications as they carry a fantastic range of benefits including being strong, durable, non-slip (to BS EN 13036 standard), low maintenance and weatherproof whist also being soft and shock absorbent under heavy foot, horse and other animal traffic. This range of fantastic benefits make our range of rubber matting ideal for stable flooring, walkways, horse walkers, dry stock pens, courtyards, stalls and more. The unique formulation of our rubber matting for horses ensures that our products will not break up, rot or compress over time.
The rubber walker horse mats are a dense, anti-slip and robust flooring solution which can be used for a number of applications. This particular black rubber matting is ideal for supporting your horse and livestock as they walk, rest or are even unloaded from transportation vehicles, this is because they provide a strong yet cushioned and shock absorbent surface which reduces the wear on their shoes or feet. Being low maintenance too, wherever installed, they can be easily cleaned and looked after to help prolong their life. This unique heavy duty rubber matting offers you a reliable and long lasting flooring solution which can be cut to fit your needs perfectly and be used for a range of applications including walkways, horse walkers, dry stock pens and much more.
Our heavy duty interlocking rubber matting for stables have been manufactured from SBR rubber which has been bound together using a polyurethane adhesive. The unique formulation and design is ideal for supporting your horses or livestock as they help to reduce the wear on your horses' shoes or livestock feet whilst also allowing each mat to be cut to match the dimensions of your installation area. The interlocking design means no additional products are needed to install your surface as neighbouring mats can be easily slotted together. These heavy duty, weatherproof and low maintenance horse mats have been designed to offer you a reliable flooring solution for a range of applications such as stables, walkways, courtyards and stalls.
For more information on our livestock flooring and equestrian surfaces or for some advice on which products would best suit your needs, please do not hesitate to contact us and speak to a member of our helpful and knowledgeable customer service team.
Related Blog Posts
To help our customers pick the right product and learn more about how our products can be used, we have compiled blogs which can be read by clicking the button below.
How to Install Rubber Grass Mats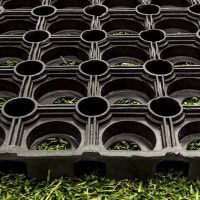 Rubber Grass Mats View Rubber Grass Mats An introduction to rubber grass mats Rubber Grass Mats are the ideal solution to ensure grass can withstand heavy pedestrian traffic whilst it continues...
read more ❯