Showing all 2 results
Hammers and Mallets
Hammers and Mallets are simple, handheld tools intended to deliver force to an object. Most hammers and mallets rely on the physical prowess of the operator to deliver an accurate blow to a fastener head, such as nail or spike, to join or forge malleable metal components or chisel objects. It is used in a large array of industries and workforces.
Related Blog Posts
To help our customers pick the right product and learn more about how our products can be used, we have compiled blogs which can be read by clicking the button below.
New trade counter now open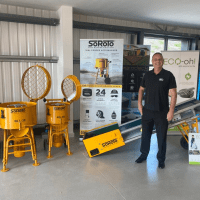 We've opened a new trade shop at our brand new premises at Sheepbridge Lane, Chesterfield, S41 9RX. Open Monday to Friday, we stock some of the most loved brands in the landscaping, groundwork and construction industry.
read more ❯