Description
Specification
Applications
Case Studies
Downloads
GrassMesh: Grass Protection Mesh
GrassMesh is a range of HDPE meshes ideally suited for grass protection. Within the GrassMesh range we have 3 thickness of mesh ranging from 270g/sqm to 640g/sqm. Each mesh has been specifically designed to satisfy the needs of a type of application. All three meshes within the range are made from 100% HDPE (high-density polyethylene).
The GrassMesh range is quick and easy to install and offers a lightweight, durable cost effective grass protection solution for all applications. quick and easy to install and offers a lightweight, durable cost effective grass protection solution for all applications.
Typical applications where this product would be applied in areas where grass protection is required to stop erosion from occasional to heavy pedestrian and very light use by small domestic vehicles such as mopeds, motorcycles or motorised scooters.
With an unobtrusive design, the only reason you'll know it's there is because of the healthy grass growing through it. You can mow, seed and treat your grass as normal with GrassMesh and when installed correctly it's sure to last for years.
Intended for use on either flat or uneven ground, our hard wearing and durable grass protection products really can be used anywhere intended for fairly regular pedestrian use.
As GrassMesh offers a lighter form of protection it is not suitable for vehicular use, for this kind of application, take a look at our TurfMesh range.
For more details on the GrassMesh Range, please contact one of our sales team who can discuss your requirements and confirm the correct mesh for your particular application.

Specification

GrassMesh 270

GrassMesh 450

GrassMesh 640

Material
HDPE
HDPE
HDPE
Structure
Hexagonal
Hexagonal
Hexagonal
Colour
Green
Green
Green
Weight
270g/m²
450g/m²
640g/m²
Aperture Diameter
30mm
30mm
30mm
Thickness
2mm
3mm
5mm
Roll Sizes
1m x 30m
1m x 50m
1m x 10m
1.5m x 30m
2m x 10m
2m x 30m
1m x 10m
2m x 10m
2m x 30m
Roll Weight
8.1kg
13.5kg
4.5kg
20.3kg
9kg
27kg
6.4kg
12.8kg
38.4kg
DOMESTIC GRAVEL CAR PARKING
COMMERCIAL CAR PARKING
HOT TUB BASES
GOLF BUGGY TRACKS
FOOTPATHS
CARAVAN HARD STANDING
EMERGENCY ACCESS ROUTES
PADDOCKS
OVERFLOW GRAVEL & GRASS CAR PARKS



LUNGING ARENAS
EQUESTRIAN SCHOOLS
MOTORHOME PITCHES
DRIVEWAYS
SHED BASES
FARM ACCESS ROUTES
GATED ENTRANCES
FESTIVAL & EVENT ARENAS
LOG CABIN BASES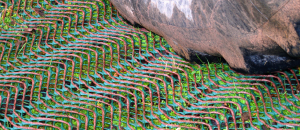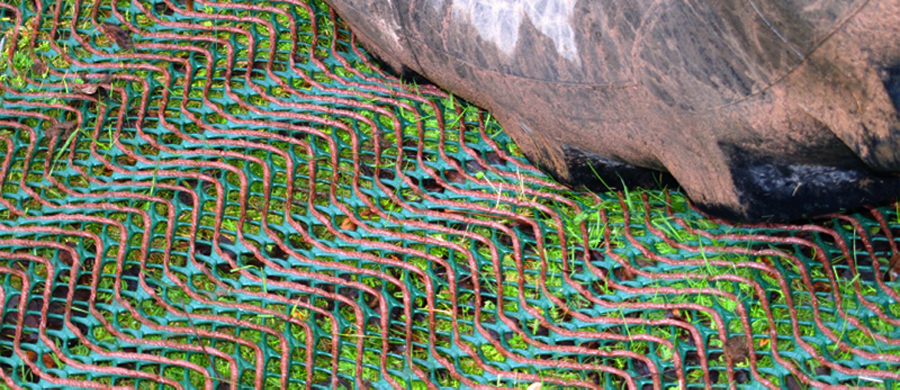 TurfMesh is a flexible grass reinforcement mesh ideal for creating temporary car parking, walkways and access routes areas without losing the aesthetically ...
Read More
Downloads
Below you will find the documents available for the GrassMesh range. These will open in a separate browser window.
To download, right click and select "Save Target As".