Project Brief: Create A strong, migration free, SUDs compliant gravel driveway on domestic property
Total Project Area: 115m²
Products Used: X-Grid
This X-Grid gravel driveway case study comes from Camber Consulting. Camber aim to build new and re-develop existing properties to achieve the most energy-efficient, stylish and family orientated homes possible using modern construction techniques and technologies.
Camber Consulting decided to replace the current broken up tarmac drive with a strong, permeable and migration free X-Grid gravel driveway. Read on to find out how the Camber team achieved these results:
Mike from Camber Consulting told us this about their project:
"The team had been working on the complete refurbishment of a 1960s house in Hastings. It is at the top of a hill with magnificent views over countryside, Rye Bay and the English Channel from the rear of the house."
"Our vision for this home was to create a place which aimed towards zero carbon living – so refurbishing the building to be much more energy efficient and using recycled materials is important to us. Wherever possible we have repaired and reused materials to reduce the impact unless there is a more sustainable option. At the front there is a steep drive, which was originally tarmac and needed to be replaced."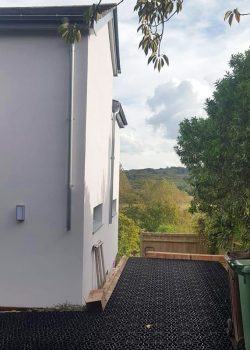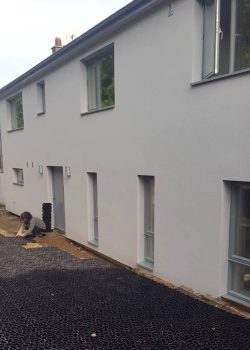 To replace a patchy and non-porous tarmac driveway, the team began researching for a suitable environmentally friendly paving solution that would solve all of the current issues they were facing. After researching online they came across our website and our X-Grid ground reinforcement grids. Upon discovering that X-Grid would meet all of their needs perfectly, 115m² was ordered and delivered to site within 3 working days.
"The problem with the previous driveway is that it was steep and made up of broken up tarmac. Repairing it would have resulted in the drive not allowing water to drain though it, causing more problems in the future and a continuous cycle of damage and patching up. To combat issue this we decided to use pea gravel sourced locally from Gardenscape and to add strength and prevent gravel migration we used X-Grid. The fact that the grids are 100% recycled and manufactured in the UK is fantastic and fits with the aim of our project."
As soon as the X-Grid arrived on site, the team could begin their gravel driveway installation as the old driveway had already been excavated. By following our install guide the large driveway was complete and functional in less than a day!
To begin, a solid sub-base was required which was achieved by laying a layer of hardcore before levelling and compacting using a whacker plate. A membrane was not required for this project but we recommend using one should there be a risk of weeds or plants growing in the area.

Next, the team began installing their black X-Grid. Laying our gravel grid is a very simple process thanks to its simple interlocking slot and peg system. The process of laying and connecting is so simple that the team laid over 100m² in less than a day! 
Finally, all that was left do was to wait for their 20 tonnes of gravel to be delivered and cover the entire area!
"They were easy to use, very adaptable and tough. We laid over 100 m2 of the grids in a day, and then had an 8 wheel truck drive onto the grid to deliver 20 tonnes of gravel with no problem – a pretty impressive first test!"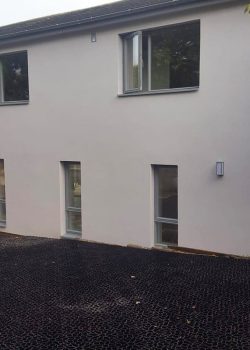 A big thank you to Camber Consulting for choosing to use our X-Grid to create their gravel driveway and for sharing photos and information on their project to allow us to create this case study! The driveway looks fantastic and will achieve all of the aims set out prior to the installation!
"Now that our project is finished and ready to go on the market people are already asking how we did it and are amazed at the value and quality of the finish."
If you have any questions regarding our X-Grid or any of our other products then please do not hesitate to contact us and a member of our sales team will be able to assist you with your enquiry.