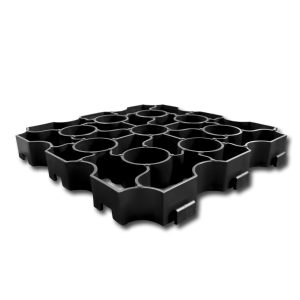 Made in the UK from 100% recycled plastic
420 tonnes/m² compressive strength
Versatile, durable and simple
Low Maintenance
UV-Resistant
UK Designed & Manufactured

Weather Resistant
Wheelchair Friendly
100% Recycled & Recyclable

World Renowned
Eco-Friendly
Immense Loading Capacity
X-Grid is available in 3 colours:
Natural (White), Original (Black) and Grass (Green)
Original (Black) is one of the most cost-effective ground reinforcement grids on the international market. With over 1 million units sold worldwide, this is possibly the world's most popular grid.
Perfect for pale coloured gravels, Natural (White) is one of the only white permeable gravel grids available on the market. Helps to disguise the grid on installations where aesthetics are key.
Perfect for reinforced grass surfaces, Grass (Green) is manufactured with creating grass access routes in mind. Ideal for use on heritage lands and areas of outstanding natural beauty.