Gravel grid system: the hidden secret of a successful gravel driveway
Gravel driveways are long associated with premium properties. They are brilliant at creating a wow factor on approach but they are also are a practical solution, needing little maintenance, while being sturdy underfoot and preventing gravel mitigation. The latter achieved by installing a gravel grid.
Gravel retention grids once installed provide a range of benefits to applications including car parks and access roads. Using a gravel grid system it can provide a hidden secret to the perfect gravel driveway or gravel surface.
This blog post explains.
X-Grid Gravel driveway grid: invisible yet stable
X-Grid gravel grid system works hard beneath the surface to keep the gravel where it is intended to be. The panels are made up of circular cells in the strongest geometric shape that creates a stable and permeable structure for a long-lasting, even and consistent gravel surface.
X-Grid is available in three colours for a discreet finish and it is filled with gravel or compact until the surface is done. It is fully porous and SUDs compliant to allow rainwater to quickly drain away.
When filled, the robust, circular cells retain the gravel which limits the movement of stones onto lawns, paths and roads. This reduces the need for maintenance and the need to top up the gravel to preserve the landscaping design.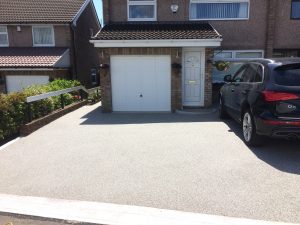 Sustainable design and manufacture
X-Grid is designed and made with the environment at the forefront of the manufacturing process.
X-Grid is manufactured in the UK which significantly reduces the carbon impact of importing products from overseas. It is manufactured from 100% recycled plastic and it can be recycled after use.
Plus, the gravel stabilisation grid is made to last.

super strong Driveway grid with rapid installation
X-grid is easy to install in ten steps.
This is done by excavating the area, laying the foundations (including sub-base and geotextile membrane), levelling the surface and laying the panels, cutting to shape and filling it up with gravel or aggregate and compacting again to a satisfactory finish.
The system is designed to be flexible in order to be cut to fit and follow the natural contours in the ground.
X-Grid can support weights of up to 428 tonnes when unfilled which means it can highly effective in a range of environments to withstand heavy vehicles.
Plastic grid pavers for inspiring surfaces
Made in Britain certified
X-Grid is the only product of its type to be "Made In Britain" certified.
"Made in Britain is an internationally-recognised registered trademark which promotes and acknowledges the very best of British manufacturing. Made in Britain can appear on any UK-made goods, from fabrics to foods and farm machinery."
The mark emphasises the X-Grid's world-renowned British high quality manufacture. 
X-Grid is one of the most versatile building products on the market. As well as domestic and commercial driveways, it can also be used for grass roads, farm gateways, livestock areas and car parking.
Since it was launched in 2015, X-Grid has been used in dozens of ways by thousands of contractors on tens of thousands of projects from the nuclear plant extension project at Sizewell B to being used as an aesthetic product at Grand Designs Live exhibition.
X-Grid is also used in golf and leisure, landscaping, supporting garden buildings and much more.
X-Grid is an extremely effective driveway reinforcement grid. The cells lock together to create a cellular plastic grid that can withstand weights of up to 428 tonnes unfilled. A choice of colours are available to create an intrinsic driveway design to meet needs.
Find out more by reading X-Grid: Product Spotlight here.
To find out more information call us on 01246 418144, contact us on webchat or email us here.