The Ultimate Guide to X-Grid Ground Reinforcement Grid System
X-Grid Ground Reinforcement Grid is the ultimate in ground reinforcement and gravel retention grid. Designed and manufactured in the UK from 100% recycled plastic, X-Grid is suitable for use in a huge number of different applications across a wide range of industries.
It is extremely versatile, it is SUDS compliant and eco-friendly.
In the first of our Product Spotlight series, we'll take a look at the benefits of X-Grid, how it is constructed and case studies of where it has worked.

X-Grid Ground Reinforcement Grid is extremely effective driveway reinforcement grid. It is intended for use in both domestic and commercial environments available in a choice of colours and sizes to suit all applications.
X-Grid lock together creating a cellular plastic grid across a driveway. The system can withstand weights of up to 428 tonnes when unfilled and help to erase gravel migration.
The discreet design of X-Grid and with a number of colours available, users can create an intrinsic driveway design to meet needs.
X-Grids can be used in areas intended for anything from wheelchairs to push bikes to HGVs – whether the target is to prevent migrating gravel or to create a stunning, otherwise unobtainable design.
How does the X-Grid work?
X-Grid is the ideal product for use when creating a solid, durable and low-maintenance surface.
The cells can be filled with any number of different materials – such as soil and seed to achieve a grass surface, gravels up to 20mm in diameter and tree bark, used at Churchwood Fisheries – ensuring a final finish suitable for any project.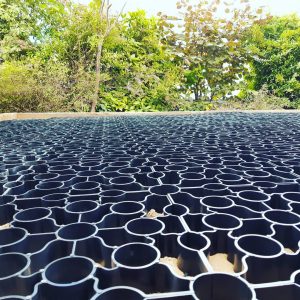 X-Grid is one of the most versatile building and surfacing products available on the market.
It can be used for a large number of applications including for grass roads, farm gateways, livestock areas and for domestic and commercial parking.
Other uses include:
Golf and Leisure: Including bunkers, buggy paths, marinas, jetties, fishing swims and racetracks.
Landscaping: Including paths, walkways, grass roads and embankments.
Hot Tubs: It is strong enough to take the weight of a hot tub or swim spa of any size.
Garden Buildings: Including sheds, log cabins, summerhouses and greenhouses.
Driveways: The X-Grid's unique design means creating a gravel or grassed driveway is simple.
Equestrian and Farm: Including farm gateways, exercise areas, paddocks, tracks and feed areas.
Find out more by reading case studies below.
What are key features of X-Grid?
Lightweight: Weighing just 5kg per square metre, the X-Grid is easy to handle and lay.
Ultra-strong: It can withstand over 420 tonnes of compression per square metre so is incredibly strong.
Integral Fixings: A moulded, integral slot and peg connection means each panel connects together to create a large area slab without additional pegs.
UK-Made: It is designed and manufactured in the UK with domestic plastic waste meaning it is a 100% British product.
Weatherproof: It is designed not to become brittle with the effects of UV or frosting, so is resistant to adverse weather conditions.
SUDS Compliant: This means the X-Grid helps to prevent flooding and the product is permeable meaning surface water can go to the ground.
DDA Compliant: It helps to provide access for wheelchair users across both gravel and grass finishes ensuring it meets DDA compliance.
100% Recycled: The X-Grid is eco-friendly made from 100% recycled waste. It is both recycled and fully recyclable.

You can install X-Grid Ground Reinforcement Grid in 10 steps:
1. Mark the area to be excavated and dig down to an appropriate depth dependent on intended use. 
2. Install the perimeter edging which is substantial enough to retain grid installation. This will help to eliminate lateral movement of the surface.
3. Backfill by compacting MoT type 1 or 3 in layers of 50mm to a final depth of 150mm.
4. Lay and secure a sheet of geotextile membrane across the entirety of MoT sub-base. Ensure the membrane is flat to the surface by securing it to the ground using fixing pegs or pins.
5. Lay a 5-10mm thick layer of sharp sand to the entire area in order to level it out. This creates a granular bedding for the grid to sit on.
6. On the fully formed sub-base begin laying the X-Grid reinforcement grids. Start in one corner and lay one panel at a time, connecting each X-Grid panel using the slot and peg snap connection.
7. It can be cut using a hand or power saw in order to fit into your specified area or to navigate around obstructions and curves. Your X-Grid panels can be firmed into place using a light vibrating whacker plate. 
8. Fill X-Grid will gravel or aggregate. This is preferable to a 10-20mm diameter, well graded, clean and angular material. Fully rounded 'pea shingle' is not recommended due to probable migration of the gravel.
9. Compact the surface of X-Grid using a light vibratory whacker.
10. To accommodate any low areas, refill these spots with gravel or compact again until a satisfactory finish is made. X-Grid can then be used immediately.
Alternatively you can download our Technical Installation Guide here.
X-Grid Case Study: Domestic Driveways
X-Grid is our best-selling product because it is permeable, porous, is SUDS compliant and abides by all water management laws and regulations.
It is extremely strong and will therefore protect and reinforce the ground while also encouraging natural drainage.
The characteristics of X-Grid means it is ideal for domestic driveways. These homeowners chose 40sqm of green X-Grid and used beautiful, decorative gravel to pack it tightly.
The cellular composition of X-Grid makes them perfect for preventing the displacement of gravel while allowing effective drainage.
A domestic drive is both the first and last thing any guests, visitors of potential buyers will see. Using X-Grid means gravel will be retained, ensuring the front of the house looks neat and tidy all year round. 
X-Grid Case Study: Commercial Car Parks
The increased need for parking at locations including festivals, sports venues, shopping centres and establishments mean often staff, visitors and facility users find themselves having to park on grassed areas. 
At this school in Belper, parking on grass led to a number of muddy patches around the school grounds. This affected the aesthetics of the school and made the site increasingly inaccessible. This increased the school's cost with greater need for caretaking and cleaning staff.
To help alleviate drainage issues and as a more ecologically friendly alternative to concrete or tarmac, the school decided to use X-Grid as a permeable alternative to traditional car parking surfacing.
After excavating a number of areas around the school which had been identified for the car parking, a compacted hardcore base of MoT type stone was used to provide X-Grid with a strong and stable sub-base.
By laying a geotextile membrane over this, they reduced the risk of weeds and added separation between build-up layers. The X-Grid was then laid on top of a well screeded sand blinding layer and filled with robust, decorative gravel.
It created a permeable and substantial parking area for both students and visitors. It needs little maintenance, saving time and money.
X-Grid Case Study: Camping and Leisure
The X-Grid is also commonly used in the leisure industry.
At Park Avenue Holiday Village, many visitors needed to drive around the park to unload luggage at their holiday homes.
The traffic around grassed areas of the park meant that the ground had become muddy, with constant foot traffic adding to the issue. 
During wetter months the conditions worsened furthermore.
The contractors first excavated the ground, removing the top surface and down to a suitable depth. A ground stabilisation mesh was installed with the sub-base in order to help add more strength and stability to the soil base. This was then topped with a depth of MoT hardcore which forms a solid base and a geotextile membrane acts to keep individual layers separate.
X-Grid was laid following a binding layer of sharp sand. It was filled with a mix of soil and grass seed. The gras area then formed grass access routes which could be used all year long.
In contrast to previous years, grass roads do not rut or become muddy. X-Grid is almost invisible while providing a solid and stable surface for many years to come. The grass can be mowed over without any hinderance allowing for ride-on lawnmowers to maintain access routes quickly and effectively.
For more information about X-Grid Gravel Driveway Grid call us on 01246 418114 or contact us here.