Accelerator (a.k.a. catalyst) Speeds up Resin Curing
There's no escaping the fact that resin bound gravel installation is a seasonal job. With polyurethane binders being sensitive to temperature and moisture, it's almost inevitable that in the UK from around September, the number of good days to lay resin bound drops dramatically. When the temperature drops below the manufacturer's recommended tolerance (usually around 20°C) it is absolutely essential that care is taken to make sure the surface cures within an acceptable amount of time.
If the ground and air temperatures are too cold, the reaction of the part-A and part-B of the resin slows down and the lower the temperature, the slower that curing process is. When the surface curing process is too low, this can leave the resin binder vulnerable to dew, condensation or rain collecting on the top. Those who have worked with resin for a while or have attended any resin bound training courses will know that if there's one thing you need to avoid, is moisture.
We know that we can't do anything to make the weather any warmer (or we'd all have been turning the thermostat up during autumn and winter), so we have to adjust the mix to help speed up the curing times. Adding more gravel, sand or resin doesn't help to make a positive impact on this curing time, so a resin bound accelerator (also called catalyst) can be added to help speed things up.
In reality, you're not actually making anything cure any quicker than it would normally, you're just adding a chemical to counteract the slow curing time to make the mix go off in the usual timescale which will help to avoid long or overnight curing of the surface.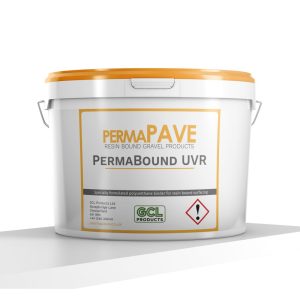 View our range of resin bound gravel products
How much accelerator should you use?
This can be difficult to pinpoint and will vary from manufacturer to manufacturer and even between resin formulations (like UV versus Non-UV) and our best recommendation is to check with your supplier or manufacturer.
It's also wise to stick with the same manufacturer for both your resin binder and your accelerator, as the products you buy are most likely to be designed to work with each other and crossover between manufacturers may cause adverse effects. So for example if you buy Leeson Polyurethanes resin, you should buy Leeson Polyurethanes accelerator.
If you are using our PermaBound UVR resin, you can see the table below which gives an indication of how much D4860 accelerator should be used to make sure the resin cures in the usual timeframe. If you're using a different product, you should speak to your supplier or the manufacturer to get guidance on how much to add for your specific materials.
| Air Temperature (°C) | Accelerator Needed |
| --- | --- |
| 20 | 0.0ml per kit |
| 17.5 | 5.1ml per kit |
| 15 | 11.3ml per kit |
| 12.5 | 19.2ml per kit |
| 10 | 33.8ml per kit |