The ultimate guide to changing SoRoTo forced action mixer paddles
Quick paddle removal is one of the key benefits of the SoRoTo forced action mixers.
There may be a number of reasons that the paddle needs changing. This includes age or upgrading to recommended rubber paddles.
This blog post explains how to change mixing paddles. Alternatively, take a look at the
video
below.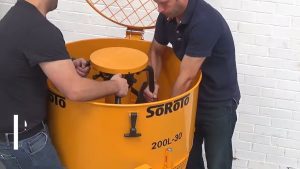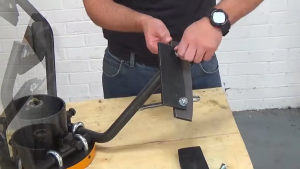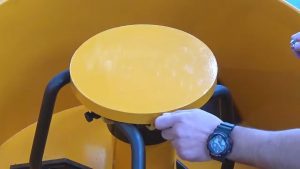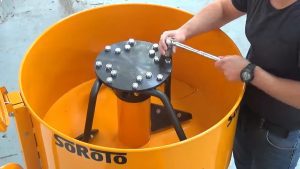 Replacing the mixer paddles: instructions - 200L/300L
Here are the instructions for replacing the mixer paddles:
Step 1: Remove the mixer head.
Step 2: Using an adjustable wrench, remove the existing screws and the paddle.
Step 3: LIne up the new mixing paddle so that the screws can fit through both the holes in the mixer arm and the pddle. Tighten into place using a screw, washer and bolt.
Step 4: Repeat this process on the remaining three arms.
Step 5: Put the mixer head back on.
Step 6: Loosen the bolts on the top disk and remove it.
Step 7: Loosen the four bolts that are connected to the correct arm.
Step 8: Adjust the paddle accordingly and tighten the bolts.
Step 9: Adjust the lower 5th screw if this is needed.
Step 10: Replace the top disk and reattach it.
Watch our mixing paddle replacement video
Benefits of rubber paddles
As a SoRoTo mixer is highly versatile and can be used to mix several different materials, including concrete, resin bound gravel, screen, tile adhesives and render, it's important that you use paddles which are appropriate for the job.
Manufacturer guidance suggests to use rubber paddles when mixing materials which contains aggregates larger than 8mm. This helps to reduce strain on the motor and gearbox, as well as preventing from becoming jammed should a piece of aggregate stick between the paddle and the drum.
Rubber blades should be using for mixing aggregates of more than 8mm
.
How to choose the right mixing paddle
With a SoRoTo machine, paddles and mixing arms can be ordered individually or as a set, optionally with or without the cross-joint which sits on the driveshaft. It's not usually necessary to replace your cross-joint unless it is damaged.
It is important when buying replacement paddles to select the correct part as replacing with the incorrect part may cause inconsistent mixing and even machine fatigue or failure. To help with identifying the right paddle or arm, we have included exploded diagrams on our spare parts page. Simply visit the SoRoTo Mixers spare parts page, select your desired mixer and you will see the table and exploded diagram to help you.
SoRoTo 40L: The 40L is a compact but capable forced action mixer. It is designed for portability, and is constructed to the highest quality to withstand the toughest building site environments.
SoRoTo 80L: The 80L mixer is safe, portable and powerful. It is built to fit through doorways and fitted with wheels so can be transported to any area it is needed.
SoRoTo 100L: The 100L is the most popular mixer for resin bound gravel. It can combine aggregate and resin evenly and quickly to ensure plenty of time is available before the resin starts to cure.
SoRoTo 120L: This machine features a rugged, durable design and is ideal for contractors who need a high-capacity machine that is efficient, portable and reliable.
SoRoTo 200L: The 200L is a large capacity, efficient mixer. Unlike other large mixers, this machine is easily transported and used on slanted and hard areas due to its adjustable legs. It is ideal for (but not limited to) resin bound gravel, concrete liquid, liquid screed and wet pour rubber. 
SoRoTo 300L: The 300L is our largest mixer ideal for a variety of applications on large-scale construction projects. It has the ability to mix up to 650kg of mixture in five minutes.
Give us a call on 01246 418144 to speak to a member of our team about choosing the ideal mixer and mixing arms for your needs.
Alternatively, contact us on webchat or email us here.