Showing 1–20 of 302 results
Effective, Durable & Versatile Upright Pan Mixers
Since the founding of the company in 1986, SoRoTo have been the manufacturers of the original forced action mixers. Company founder Benny Andersen, whilst working as a bricklayer, realised he lacked a small machine which would be portable and compact enough to use on indoor masonry jobs. Concluding that there wasn't a product suitable for him to use, he set about designing his own. With the ability to be transported by a single individual, a SoRoTo mixer is powerful and portable, enabling you to efficiently mix right where you work. Durability is one of the most important properties of tools and machinery used in construction which SoRoTo understands and is the basis of their designs. The carefully selected gearbox and motor are designed for use in practically any environment, with an operating temperature range which far exceeds normal conditions, they are designed to endure a harsh life on construction sites.
As the sole UK distributor of SoRoTo products we stock and are able to supply the full range of SoRoTo mixers which vary from the small, super-portable 40 litre mixer to the mammoth large scale commercial 300 litre mixer. These rugged and durable machines have been specially designed to last the test of time in the most demanding of conditions. As construction sites are harsh with the presence of salts, chemicals, solvents and moisture, these upright pan mixers are manufactured to endure. Simple to clean, mobile and safe, the entire SoRoTo mixer range is sure to stay reliable, just as any good concrete mixer should.
Every SoRoTo machine has been manufactured to the highest quality to enable it to withstand the toughest environments that machinery can face on sites. Their efficient but quiet motors and durable designs make these upright pan mixers the perfect machine for contractors who need efficient and reliable, high-capacity output machines. The versatility of forced action mixers means our machines can mix the following materials with no issues; resin bound gravel, concrete, mortar, render, plaster, screed, lime putty and much more.
With the meteoric rise of resin bound gravel sweeping the UK, contractors are heavily reliant on the most important piece of equipment in their van, the gravel mixer. As it is imperative that the aggregate and resin is combined evenly and quickly to ensure maximum time to work or trowel the product into place before the resin binder starts to cure, it's important to make sure that you have a mixer with enough capacity, power and efficiency to handle the demands of mixing this dense and sticky mixture. Which is where the SoRoTo 100L and 120L come into play, these resin bound gravel pan mixers can comfortably hold and mix an industry standard 4 bag mix ideal for a small team of installers to lay before the curing process begins.
The SoRoTo 40L is designed to be a super portable mixer for contractors who need a small but mighty machine. Able to mix up to 95kg of materials, you can mix your plaster, concrete, render or mortar exactly where you need it due to the 40L being narrow, light and able to fit through standard doorways and up stairs. A relatively light machine at 64kg and just over one metre in height, the SoRoTo 40L can be easily moved and loaded into and out of a van or pickup, by one person. If you're mixing mortar, concrete, plaster, wet pour rubber crumb or render the SoRoTo 40L is able to consistently out perform the competition. With mixes completed in just under 4 minutes per load, you're sure to reduce the amount of time on site when compared to a traditional rotary drum mixer.
Designed for contractors who are carrying out larger repairs or erections of new buildings, the SoRoTo 80L can mix concrete, liquid screed, mortar, lime mortar, wet pour rubber crumb or self-levelling epoxies. The mixer is designed to fit through most standard doorways, unlike traditional drum mixers, and can be transported to the exact area of working, saving time and effort to enable you to work efficiently and cost-effectively. With patented special mixer arms and paddles, the SoRoTo range of mixers can mix a huge range of materials and the optional rubber paddles help to prolong the life of your mixing paddles when used with materials containing large aggregate. With easy-load transportation rollers on the top of the machine, loading into the back of a van or onto a pickup flatbed is simple and can be done with relative ease, by a single person.
Ideally suited for contractors who have a requirement for mixing larger amounts (up to 240kg approximately) of materials, such as resin bound gravel, mortar, render, lime putty, plaster, screed and concrete, exactly where they need it. This is the most popular choice for most resin bound installers as it is able to hold an industry standard 4 bag mix which produces enough material in good time to give a small team enough time to work and trowel their time sensitive material into place before the curing process begins. As the SoRoTo 100L is light and narrow enough to fit through standard doorways, it can be taken right to where you need it, instead of having to down tools to carry small buckets or wheelbarrows of mixed material back to where you are working. This increases a business's productivity and profitability, two of the essential ingredients for success.
Ideal for almost any mix job from resin bound gravel to wet pour rubber, liquid concrete and lime putty, the 120L is able to perform fantastically from its first mix right to its last. The mixer performs well thanks to its specially designed arms which reach places other pan mixers can only dream of! Due to its single phase 100v/1.1Kw motor, delivering 30RPM the machine is able to last all day as long as the correct transformer is used. With adjustable front legs and a 120 litre mixing capacity, the 120L can be used for the larger and most awkward of jobs. Along with other features such as robust plastic tyres, SoRoTo pan mixers are the industry leaders due to their innovation, durability and ease of use.
With its specially selected 2.2kW motor, delivering 30rpm the 200L mixer performs fantastically well in almost any circumstances when using the correct 3 phase transformer. Unlike other large pan mixers, this machine can also be easily transported and used on slanted and hard to reach areas due to its lightweight frame and adjustable legs. With a mixing capacity of 468kg, service life of up to 20 years and the accessibility to be able to use the mixer on uneven surfaces, the 200L will save you a lot of time and money. The 200L is also incredibly versatile being suitable for multiple jobs including but not limited to, concrete, resin bound gravel, lime mortar, liquid screed and wet pour rubber. The reliable and long lasting 200 litre mixer will produce great results from its first mix to its last.
One of the largest mixers available on the market today, the 300L is equipped with three detachable, robust wheels and an adjustable pole making it easy to transport around building sites. With the ability to mix up to 650kg of mixture, the 300L allows you to prepare vast quantities of material ready to lay in as little as 5 minutes. The specially designed mixing arms and paddles allow this mixer to be used for a variety of materials and provide a quality mix from its first to its last. The 300L also comes with three lifting rings to allow the mixer to be moved around by cranes on larger building sites.
For more information on our range of SoRoTo mixers or for some advice on which mixer would best suit your needs, please do not hesitate to contact us and speak to a member of our knowledgeable and helpful customer service team.
Related Blog Posts
To help our customers pick the right product and learn more about how our products can be used, we have compiled blogs which can be read by clicking the button below.
5 steps to make mortar or concrete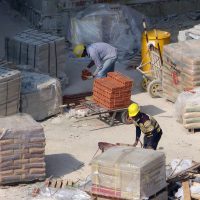 View Forced Action Mixers a guide to mixing cement to make mortar or concrete Cement is a material that can be utilised to bind other components together to make robust...
read more ❯