Showing 1–20 of 52 results
Durable, Effective, & Versatile 100 Litre Forced Action Mixer
Since the founding of the SoRoTo in 1986, they have been the manufacturers of the original forced action mixer. Company founder Benny Andersen, whilst working as a bricklayer, realised he lacked a small machine which would be portable and compact enough to use for indoor masonry jobs. Concluding there wasn't a product suitable for him to use, he set about designing his own. With the ability to be transported by a single individual, SoRoTo forced action mixers are powerful and portable, enabling you to mix right where you work. Durability is one of the most important properties of any tools and machinery used in construction, SoRoTo understand this fact and use it as the basis of their designs. The carefully selected gearbox and motor are designed for use in practically any environment, with an operating temperature range which far exceeds normal conditions, each mixer is designed to endure a harsh life on construction sites.
The SoRoTo 100L is the most popular forced action mixer in our range. It's size, mixing capacity and maneuverability means it is the ideal mixer for resin bound gravel installations as it is able to hold a standard 4 bag and bucket of resin mix. The SoRoTo 100L is a flexible mixer which you can take anywhere as with the adjustable legs you can take the mixer to even the hardest to reach corners of a job. As well as mixing resin bound gravel, this mixer is suitable for mixing concrete, tile adhesive, render, plaster, masonry mortar, screed, epoxy resin, grouting and wet pour rubber. Thanks to its specialist design and manufacture, the 100L will produce a consistent mix each and every time it is used. Being narrow enough to fit through standard doorways, it can be taken right to where you need it, instead of having to down tools to go outside to carry small buckets of mixed material back to where you are working. Powered by a specially selected motor, every 100L mixer produces 30 RPMs to ensure a perfect mix from the first time to its very last. All of these benefits increases productivity and profitability, two essential ingredients for success.
In this category you can see that we have two variants of 100L forced action mixer. 110v and 230v mixers which are almost identical apart from the extension cable and transformer needed to power them, there is more information on the required equipment in the individual product listings. As well as the two mixers we also have the entire range of 100L spare parts available for purchase now, meaning should you need a new set of blades, dust eliminator or a safety grille, we can have them ready for you to collect or even delivered to your door! Take a look through our range if you are in need of spare parts.
For more information on our SoRoTo 100L forced action mixer or for some advice on which product would best suit your needs, please do not hesitate to contact us and speak to a member of our trained customer service team.
Related Blog Posts
To help our customers pick the right product and learn more about how our products can be used, we have compiled blogs which can be read by clicking the button below.
New trade counter now open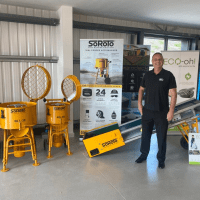 We've opened a new trade shop at our brand new premises at Sheepbridge Lane, Chesterfield, S41 9RX. Open Monday to Friday, we stock some of the most loved brands in the landscaping, groundwork and construction industry.
read more ❯