A range of resin gravel kits, aggregates, binders and tools
Resin bound surfacing has seen an impressive rise in popularity over the last couple of years and is increasingly becoming one of the most sought after surfacing solutions for driveways, car parks, pathways, patios, terraces, urban areas and much more. When installed correctly, resin bound will provide you with a strong, beautiful, durable, low maintenance, SuDs compliant, UV stable and long lasting surface. These many benefits make resin bound the ideal surfacing solution for almost all products which require an attractive surface which will remain strong, allow naturally drainage, not fade over time or require regular maintenance.
Here at GCL Products we currently stock all of the products you could ever need to lay a resin bound surface from resin binders and gravels/aggregates to tools and accessories. We have directly sourced the absolute best products from the best manufacturers in the UK to ensure our customers receive premium quality products for every single project they undertake. With a fantastic range of gravels and kits available for order now, both you and your customer will have an amazing choice of different colours to fit everyone's wants and needs. As the UK's sole distributor of SoRoTo forced action mixers, we have stock of the original and best forced action mixers on the market today which are perfect for efficiently mixing resin and gravel. Learn more about the different products we have available by reading on:
Resin Bound Kits
Each of our resin bound kits are made up of four 25kg bags of decorative, washed and dried aggregates along with the option of including a bucket of our specially formulated 7.5kg UV stable resin binder. With over 40 different gravels and blends available we will be sure to have the correct kit to match you and your customers wants and needs. Every kit found on our website is available for delivery all over the UK or it can be arranged for you to collect from our warehouse in Chesterfield. Browse our fantastic range of resin bound surfacing kits and you can learn more about our kits on the product pages or by contacting us.
Polyurethane Resin Bound Binder
We have sourced and stock a great range of polyurethane resin products which are used to bind and solidify the kiln-dried aggregates in order to create a permeable and strong surface. Each two part polyurethane resin is perfect for mixing with decorative kiln-dried aggregates to create a continuous, attractive and permeable stone carpet surface. Binders are usually combined with around 100kg of washed and dried decorative gravel, and in some cases sand, to form a sticky material which is then mixed in a forced action mixer before being laid by a trained installer. Available in either UV stable, a gravel binder which will cure to a transparent gloss and will not yellow or discolour or non-UV stable which is works exactly the same but may discolour or yellow over a period of time, we will have a suitable binder for your upcoming project. You can learn more about each of our polyurethane binders on the resin binder product pages.
Resin Bound Aggregates
Our impressive and varied range of products is perfect for use in the creation of a resin bound surface which has become increasingly popular recently. These specialist decorative gravels and aggregates have been carefully washed and kiln dried to eliminate as much dust and moisture as possible, which is essential for resin bound applications. This range of gravels are perfect for creating driveways, patios, pathways, courtyards and so much more. You can learn more about our fantastic resin bound aggregate range on the gravel product pages.
Resin Bound Surfacing Tools
We stock and supply a fantastic range of tools and accessories which help you get the best results from every one of your resin bound surfacing projects. We have sourced a variety of great products from a trowel set, ideal for those starting out, to resin catalysts which are added to the polyurethane resins to accelerate the cure rates and a universal primer which is applied to an existing surface such as concrete before the mix is laid. Our range help make laying resin bound (once mixed with a forced action mixer) a much easier process. You can learn more about our range of resin bound surfacing tools by viewing the product pages.
Sand & Glass For Resin Bound Surfacing
We currently stock two products in the sand and glass category, a 25kg bag of crushed glass and a 6.5kg bag of Chelford 52 sand. These are both used to increase the amount of grip with minimal effect to the aesthetics of the surface. By adding either of these to an installation, the risk of slipping is vastly reduced which can be vital for installations around sensitive applications such as nursing homes, care homes or domestic driveways. They can be either added to the original mix when in a forced action mixer or scattered over the finished surface whilst still tacky to help increase traction. Learn more about the sand and glass on the product pages.
For more information on our range of resin bound surfacing products or for some advice on which products would best suit your needs, please do not hesitate to contact us and speak to a member of our trained customer service team.
Related Blog Posts
To help our customers pick the right product and learn more about how our products can be used, we have compiled blogs which can be read by clicking the button below.
Driveway legislation: all you need to know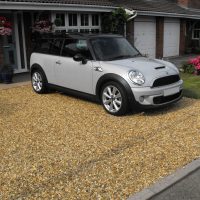 Gravel Driveway Grid View X-Grid Range driveway legislation: do you need planning permission to install a driveway? The legislation around laying a new driveway intensified following heavy flooding across the country...
read more ❯