Showing all 8 results
Safe, Vibrant, Effective and Cost Effective Rubber Bark Surfaces
Rubber bark is a safe, slip resistant, wheelchair friendly, natural looking and fully permeable surface commonly used in playgrounds, play areas, parks and other recreational areas to create a protective flooring with a good critical fall height. Rubber bark is created from recycled tyres before being covered in durable PU coating to create a bark like appearance. Bark effect rubber flooring is created by mixing together rubber bark and a specially formulated, unpigmented resin binder in a forced action mixer before being laid and levelled out in the required area. You will be creating a soft, freeze and compact resistant surface with a good critical fall height (dependent on install depth) which is a more affordable option compared to wet pour rubber and more durable with less shrinkage and maintenance required than loosely filled mulch.
Installation
Rubber bark is a quickly installed product which produces minimal disruption to existing ground and site as it can be installed on to almost any level surface. Little to no ground preparation or sub-base is usually required when installing mulch saving you both time and money. With just the current ground being excavated and levelled to a certain depth dependent on the customers critical fall height requirements and the use of a woven membrane to prevent weed growth. The little ground preparation is thanks to the mulches great drainage properties, however in slow drainage areas some ground work may be required to help prevent water build up. Perimeter edges are not always required either, if installing onto soil or grass you can dig down to a specific depth and fill up to meet the current height of the surrounding surface to ensure there are no edges which can be tripped over or prevent wheelchair access. Once installed, the area should set after 24 hours but should not be used until at least 72 hours have passed.
Maintenance
Rubber bark mulch needs to be maintained to ensure that normal wear and tear and UV exposure does not lead to base rubber being exposed and as a result leave black marks on users. To prevent this as well as you can, follow these steps:
Only allow appropriate footwear to be used on the surface (high-heels and studs can damage the surface),
Sweeping leaves and other debris away from the surface,
Routine cleaning using hot water (not boiling) and soap to remove stains or mud whilst preventing moss, algae and vegetation build up,
Removal of any singular weeds or plants by hand or groups of weeds using domestic weed killer but oil based weed killers must not be used.
Re-coat the surface routinely to cover the mulch and prevent colour marking on users.
For more information read through our product guide or for some advice on which product would best suit your needs, please do not hesitate to contact us and speak to a member of our trained customer service team.
Please note: Due to normal wear and tear and UV exposure, over time all colour coated products are likely to expose the base rubber. As a result, mulch may leave black marks on users if not recoated as part of maintenance. There are often variations in shade and shred size between mulch batches. Any orders of a single colour over 100 bags of mulch may be from more than one batch. For batch information refer to manufacture codes and dates marked on the pallet.

Related Blog Posts
To help our customers pick the right product and learn more about how our products can be used, we have compiled blogs which can be read by clicking the button below.
The many uses of non-woven membranes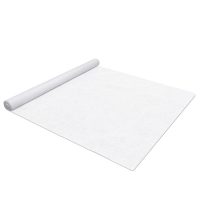 What are the uses of non-woven membranes? Non-woven membranes are used in a wide range of locations, from domestic gardens to public spaces and parks, sports complexes, golf courses...
read more ❯