Showing 1–20 of 52 results
Versatile, Anti-Slip & Low Maintenance Rubber Flooring
Here at GCL Products, we offer a range of rubber flooring products that are long lasting, versatile & low maintenance. Our products create safe rubber surfaces and with each product having its own set of unique set of benefits, it ensures we can meet your needs for a range of projects where rubber tiles are required. Our range includes: Rubber grass mats, a grass protection solution. Rubber tiles, a pre-cast rubber paving product. Rubber gym mats, a fatigue reducing gym flooring product. Rubber equestrian mats, a range of stable mats and horse mats. EPDM, a specialist rubber flooring material installed by specially trained professionals. Our wide range of effective and versatile products can be used on a range of applications such as;
Grass Protection
Our grass protection products are a way to promote healthy grass plant growth whilst maintaining safety on a variety of surfaces. Our products are perfect to aid regrowth of poor condition grass & protect the plants roots. Our rubber grass mats range is the ideal way to protect a variety of grass surfaces. The grass mat is easy to install and can be laid on both level and uneven surfaces through the use of cable ties and plastic fixing pegs. Being strong, durable, cost effective, efficient and versatile makes our grass mats one of the best choices for grass protection solutions on the market.
Gardening & Landscaping
Our gardening and landscape products provide a range of uses in order to meet your practical and decorative needs. Our rubber grass mats, whilst providing excellent protection for lawn, can be used within your garden as this discreet product becomes almost invisible after the grass below has grown. Our rubber tiles range can provide a more decorative look within the landscape. Available in 3 colours the strong, versatile, easy to install, low cost and low maintenance rubber matting can help sculpt and structure your garden. Both products have excellent natural drainage ensuring that air, water and essential nutrients can reach the ground below.
Play Areas
Our playground flooring products allow parents to have peace mind whilst their children play without the high risk of injury. Our ranges of playground flooring all have different critical fall heights, allowing you to choose the best product that suits your individual project's needs. All of our products are safe, versatile & non-slip so that both maintenance and risk of injury are both low. Our rubber playground tiles are the most cost effective solutions to a play area or smaller project whilst our wet pour rubber crumb play surfaces are often used in larger more commercial playgrounds, parks and other recreational areas and require a forced action mixer and specially trained installers in order to lay down.
Walkways
All of our walkway products are manufactured from rubber and provide you with a safe, non-slip & versatile surface for heavy foot traffic. Our products can withstand the outdoor conditions meaning they are perfect for use all year round. Our product range of anti-slip mats can be trimmed down if required to ensure a perfect fit along your walkway keeping safety and visual aspects at the highest standard possible. Our rubber flooring is a cost-effective, durable, easy to install & protective product that can be used for both commercial and domestic use.
Equestrian
Horse owners and keepers know of the requirements needed from their horse and stable mats. We have sourced the best equestrian mats on the market to ensure we can provide our customers with beneficial flooring solutions. Carrying a range of benefits such as strength, durability, slip resistance, low maintenance and weather resistance. These dense, shock absorbing rubber matting for horses give you a fantastic range of benefits ideal for stable flooring, walkways, courtyards, stalls, dry stock pens and horse walkers. Being applicable for these uses is also thanks to each mat being soft and shock absorbent under heavy foot, horse and other animal traffic to ensure there is little risk of injury when used.
Golf Courses
Golf courses can benefit from using a number of rubber products to fix a range of issues they may face throughout the year. One of the biggest issues golf courses face is large muddy areas which can be created by foot, buggy and cart traffic which eventually kills the grass in the area leaving a large mud patch or path. Our rubber grass mats can be used by golf clubs all year round to create paths and walkways around the course to protect the turf below from heavy foot and buggy traffic which may otherwise damage the area. They are particularly popular during winter months when wet weather can get the best of some courses where preventatives have not been put in place. Installing our grass mats is incredibly easy and when used in problematic areas can help keep your courses healthy and your golfers clean! Another use of our rubber products is our rubber tiles which are used to create all weather tees allowing your course to be played almost all year round, to see exactly how this can be achieved, read our rubber tiles used to create all weather tees blog. You can learn more about our rubber grass mats and rubber tiles on the product page.
Event Flooring
When preparing for an event, the flooring of your area is an incredibly important aspect which requires sufficient planning. Our range of rubber products can be the surfacing solution you have been searching for. Preventing grass erosion or protecting visitors from muddy areas and slippery surfaces are just a few examples of how our rubber grass mats can be used as an event flooring solution. When installed over grass, our grass mats protect the existing turf from heavy foot traffic whilst also keeping your visitors on a mud-free and non-slip surface which they may not even realise is there. Another benefit of grass mats is that they can also be taken back up and reused at your next even location meaning you can save money on surfacing your events. Protecting the existing ground whilst keeping your visitors clean and safe is vital which makes our rubber grass mats an ideal product for flooring your upcoming event. Learn more about our rubber grass mats on their product page.
Rubber Gym Flooring
A supportive, comfortable, fatigue reducing and hygienic flooring is vital when creating a gym or exercise room/area. Our range of strong, durable and non-slip rubber gym flooring products are the perfect solution for your surfacing needs. Home gymnasiums and exercise rooms are growing rapidly in popularity which has lead to people quickly discovering that the choice of floor for their gym is incredibly important. Whether you are installing the flooring of a commercial gym, home gym, yoga rooms or even dance studio we are sure to have a suitable product to meet your needs. Our rubber gym mats are one of our most popular gym flooring solutions due to the face they help to reduce fatigue and the risk of shin splints all whilst repelling odour and moisture to increase the hygiene. With a shallow tread pattern for improved grip, our rubber gym mats can be installed directly over almost all existing flooring from concrete to wood with no additional fixings as each mat has specially designed interlocking pegs and holes which simplify the installation process. Another gym flooring alternative is our pre-cast rubber tiles which have been manufactured from rubber waste to allow you to create, strong, vibrant, soft and safe gym flooring. These tiles are easy to install by either using the included interlocking pegs or by securing using a strong rubber adhesive, regardless of your installation method you can be assured that you will be provided with an efficient, low maintenance and cushioning rubber gym flooring. Learn more about our rubber gym mats and rubber tiles on the product pages.
For more information on our wide range of versatile rubber flooring products or for some advice on which products would best suit your needs, please do not hesitate to contact us and speak to a member of our helpful and knowledgeable customer service team.
Related Blog Posts
To help our customers pick the right product and learn more about how our products can be used, we have compiled blogs which can be read by clicking the button below.
5 steps to make mortar or concrete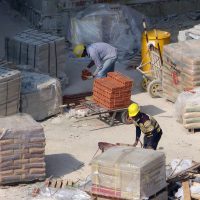 View Forced Action Mixers a guide to mixing cement to make mortar or concrete Cement is a material that can be utilised to bind other components together to make robust...
read more ❯