Showing all 7 results
Rubber Matting
Our range of rubber matting is perfect for providing you with flooring for almost any job. We use recycled rubber to create safe and long-lasting surfaces that can be used as safety flooring in playgrounds, as gym flooring, for pathways and even as equestrian flooring. Learn more about each product we stock and which would be best for your upcoming rubber surfacing project:
Rubber Grass Mats – Recycled Rubber Matting
Rubber grass mats are one of our most popular products which are supplied to the landscaping, DIY and play industries. We stock this fantastic range of versatile, strong and durable products which are commonly used on a range of applications such as homes, gardens & landscaping projects, safe playground flooring, equestrian surfacing, event flooring and on golf courses. The grass mats popularity comes from its durability, versatility, critical fall height and wheelchair friendliness which makes it an ideal grass protection option for a huge number of projects. A grass mats primary purpose is to protect the root of grass and help revive damaged areas of turf return to their natural state. Whilst being highly effective, our range of grass mats are also easy to install on both level and uneven ground through the use of just plastic fixing pegs and cable ties. Our rubber grass mats are one of the most economical and affordable grass protection mats on the market today thanks to their efficiency and versatility. Our grass mats are available in two thicknesses, 16mm and 23mm. The Rubber Grass mat is also available in a 1×10.5 metre roll, which is 23mm thick. The grass mat roll is perfect for covering much larger areas with fewer connections. Our 23mm depth grass mats are the slightly heavier duty grass mat in our range. Manufactured from hi-density rubber, each grass mat is compliant with BS 7188 & BS EN 1177:2008. Due to their fantastic 3.3 metre critical fall height, they are very popular for use around higher level play areas as they keep the users of the play equipment safer if a trip or fall should occur. Most commonly used as play area flooring and heavily used event flooring 23mm mats provide a safe and strong surface whilst protecting the root of the grass below. The 16mm depth grass mats are the slightly lighter duty grass mats in our range. Each grass mat is compliant with BS 7188 & BS EN 1177:2008 thanks to them being manufactured from a hi-density rubber. Having a slightly lower critical fall height of 1.1 metre these mats are ideal for low level play areas for added protection. These wheelchair friendly and weatherproof mats are most commonly used to create grass paths and walkways which provide added strength and support whilst protecting the root of the grass.
Rubber Gym Matting
Rubber gym mats are an ideal flooring solution for almost any commercial or home gym in need of a strong surface. Designed for use as a soft, yet durable gym flooring, these rubber interlocking gym mats are ideal for a range of different applications from commercial gyms, to home gyms to yoga rooms and more. With the meteoric rise of home gymnasiums and exercise rooms, people are quickly discovering that their choice of floor covering for a gym is incredibly important. Whilst providing sufficient support by reducing fatigue and the risk of shin splints, the rubber gym flooring also repel moisture and odour to increase the hygiene of the workout area and keep them as clean as possible. Our gym mats can also be installed directly over almost any flooring from concrete to wood with no additional fixings as each mat has specially designed interlocking pegs and holes which makes the installation process very simple.
Anti-Slip Black Ribbed Rubber Matting
Our black anti-slip ribbed rubber flooring is manufactured from a high quality SBR rubber to provide strong and non-slip floor runners. These rubber flooring rolls can be deployed to a site easily and quickly to provide users with a strong traction ribbed matting ideal for supporting heavy traffic in both wet and dry conditions. The design of our rubber floor mats features intricate grooves which provide the anti-slip surface for its users. The ribs can actually compress whilst under pressure to help prolong the life expectancy of our mats. On top of the anti-slip benefits, our runner mat can also be cut and trimmed to fit your application perfectly, is able to resist curling and warping, reduces noise, is resistant to chemicals and is heat-insulating. All of these fantastic benefits make our ribbed rubber flooring rolls the ideal product for use as walkway flooring, industrial matting, shelve liners, in areas where objects could tend to slide such as workshops, carts, cars, vans, lorries and much more.
Heavy Duty Rubber Horse Walker Mat
A heavy duty horse walker rubber mat manufactured from SBR rubber granules which have been bound together using a specially sourced polyurethane adhesive. Being made from rubber, our stable matting for horses has been tested and proven to be slip resistant to BS EN 13036 standard to ensure your new rubber flooring can be used safely all year round regardless of the conditions. Each of our rubber stable mats provides you and your horse with a strong yet soft flooring solution which is cushioned and shock absorbent during exercise. Perfect for handling repetitive heavy footfall from hooves and shoes, these walker rubber mats can be easily cleaned after use and can also be trimmed for a perfect fit. The unique formulation and design of our equestrian rubber matting makes it a versatile product which can be used for a range of applications including walkways, horse walkers, dry stock pens and more.
Interlocking Rubber Horse Mats
Our heavy-duty interlocking rubber stable mats are manufactured from SBR rubber granules which have been bound together using a specialist polyurethane adhesive. The black rubber stable matting is ideal for supporting your horses as they walk or are unloaded from transportation vehicles as they provide a strong yet cushioned and shock absorbent surface which reduces the wear on your horses' shoes. Being made from rubber, our horse stall mats have been tested and have been certified non-slip (BS EN 13036) to ensure the surface can be used in all weather without risk. These heavy-duty, weatherproof and low maintenance horse mats have been designed to offer you reliable flooring which can be used for floor stables, walkways, courtyards, stalls and much more. The unique design of our rubber mats means each of the stable mats are easy to install thanks to the interlocking edges which allow large areas to be installed and connected together. As they are manufactured from rubber, you can also cut each mat to fit your specific installation area.
Find out more about rubber matting
At GCL we stock at wide range of rubber matting for stables, rubber matting for playgrounds, rubbing mats for garage floors, rubber flooring for gyms, rubber matting for animal and dog training and much more at our warehouse on Sheepbridge Lane, Chesterfield.
You can find out more information by calling us on 01246 418144 or by contacting us via webchat.
Related Blog Posts
To help our customers pick the right product and learn more about how our products can be used, we have compiled blogs which can be read by clicking the button below.
How to Install Rubber Grass Mats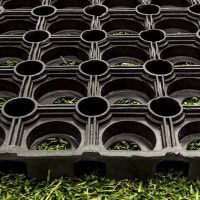 Rubber Grass Mats View Rubber Grass Mats An introduction to rubber grass mats Rubber Grass Mats are the ideal solution to ensure grass can withstand heavy pedestrian traffic whilst it continues...
read more ❯