Showing all 5 results
Strong, effective and versatile fully recycled rubber grass mats
Rubber grass mats are one of our most popular products which are supplied to the landscaping, diy and play industries. We stock this fantastic range of versatile, strong and durable products which are commonly used on a range of applications such as homes, gardens & landscaping projects, safe playground flooring, equestrian surfacing, event flooring and on golf courses. The grass mats popularity comes from its durability, versatility, critical fall height and wheelchair friendliness which makes it an ideal grass protection option for a huge number of projects. A grass mats primary purpose is to protect the root of grass and help revive damaged areas of turf return to their natural state. Whilst being highly effective, our range of grass mats are also easy to install on both level and uneven ground through the use of just plastic fixing pegs and cable ties. Our rubber grass mats are one of the most economical and affordable grass protection mats on the market today thanks to their efficiency and versatility. Our grass mats are available in two thicknesses, 16mm and 23mm thick, both are effective when used but a specific grass mat may be needed for a certain application which is explained below: You can learn more about our safe, non-slip and soft flooring grass mats on the product page or by reading our rubber grass mats specification.
23mm Rubber Grass Mat
Our 23mm depth grass mats are the slightly heavier duty grass mat in our range. Manufactured from hi-density rubber, each grass mat is compliant with BS 7188 & BS EN 1177:2008. Due to their fantastic 3.3 metre critical fall height they are very popular for use around higher level play areas as they keep the users of the play equipment safer if a trip or fall should occur. Most commonly used as play area flooring and heavily used event flooring 23mm mats provide a safe and strong surface whilst protecting the root of the grass below.
16mm Rubber Grass Mat
The 16mm depth grass mats are the slightly lighter duty grass mats in our range. Each grass mat is compliant with BS 7188 & BS EN 1177:2008 thanks to them being manufactured from a hi-density rubber. Having a slightly lower critical fall height of 1.1 metre these mats are ideal for low level play areas for added protection. These wheelchair friendly and weatherproof mats are most commonly used to create grass paths and walkways which provide added strength and support whilst protecting the root of the grass.
For more information on our range of rubber grass mats or for some advice on which product would best suit your needs, please do not hesitate to contact us and speak to a member of our trained customer service team.
Related Blog Posts
To help our customers pick the right product and learn more about how our products can be used, we have compiled blogs which can be read by clicking the button below.
How to Install Rubber Grass Mats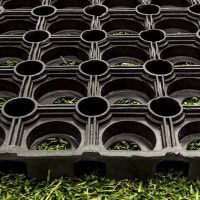 Rubber Grass Mats View Rubber Grass Mats An introduction to rubber grass mats Rubber Grass Mats are the ideal solution to ensure grass can withstand heavy pedestrian traffic whilst it continues...
read more ❯