Showing 1–20 of 71 results
A RANGE OF RESIN BOUND GRAVEL FROM TROWELS TO SLEDGES
At GCL Products, we stock and supply a high-quality range of tools and accessories which will help you get the best results from each and every one of your resin bound gravel surfacing projects. We have carefully sourced a variety of the markets very best products from a trowel set ideal for those starting out in resin bound gravel to resin catalysts which are added to the polyurethane resin binders to accelerate the cure rates and a universal primer which is applied to an existing surface such as concrete before resin bound gravel is laid. Our range aid in ensuring laying resin bound gravel (once mixed with a forced action mixer) is a much easier process. You can learn more about our range of resin bound tools by viewing the product pages.
We have a comprehensive range of tools to suit resin bound projects. The installation tools are consistent and can be utilised on every job. The tools you need depend on your industry and whether you are in the construction industry or a bricklayer, we have tools to suit your needs.
Our range of high-quality resin bound materials to businesses around the UK. We test and compare every resin product we produce so you can be confident that our resins retain their performance, UV resistant and strength to ensure your project is a success. To ensure your installation goes smoothly we have a large range of tools under one roof to suit your demand needs.
OX Tools
OX Tools are an award-winning tool brand from Australia that have established themselves as the number one tool manufacturer in the world. Their brand is built on durability and strength. Born in 1974, the brand are recognised for being tough, dynamic, dependable and affordable. They use state-of-the-art technology and materials to assemble a world-class range of tools for construction including bricklaying tools, plastering tools and multi-purpose items.
It includes trowels, spirit levels, workwear, knives and hammers, industrial rakes, tape measures, pro sealant guns and buckets.
The Resin Bull – Designed By and Made For Installers
The Resin Bull range of tools are designed by resin bound installers and are developed using the feedback from tradesmen using the tools. This has helped to create a revolutionary and unique range of tools for resin bound, which includes a number of trowels such as the mini Baby Bull, useful for tight spaces and corners, the Fat Bull which is slightly wider and more flexible for large area coverage and the BullDozer, a spazzle or spreading rake which has adjustable depth gauges to help you work quicker and more accurately.
The range also includes resin bound accelerator and more.
Find out more
For more information on our range of resin bound gravel tools or for some advice on which products would best suit your needs, please do not hesitate to contact us and speak to a member of our trained customer service team.
Alternatively contact us using our live chat feature.
Related Blog Posts
To help our customers pick the right product and learn more about how our products can be used, we have compiled blogs which can be read by clicking the button below.
New trade counter now open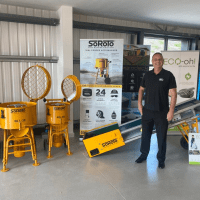 We've opened a new trade shop at our brand new premises at Sheepbridge Lane, Chesterfield, S41 9RX. Open Monday to Friday, we stock some of the most loved brands in the landscaping, groundwork and construction industry.
read more ❯