Showing 1–20 of 542 results
Forced Action Mixers
SoRoTo are the original and best manufacturers of forced action mixers. Company founder, Benny Anderson, designed and created the original forced action mixer when working as a bricklayer. He realised that he lacked a small machine which would be portable and compact enough to use on indoor masonry jobs whilst still providing a powerful and consistent mix. Since then, a comprehensive range of 6 different sized forced action mixers have been created from the super-portable 40 litre mixer able to mix over 90kg of material to the mammoth 300 litre mixer which can mix up to 700kg of material. Each mixer is incredibly versatile and can be used to mix resin bound gravel, concrete, screed, mortar, render and so much more. The durable design ensures that each mixer can deal with harsh construction site conditions. Despite the presence of chemicals, salts, solvents, moisture and general wear and tear these upright pan mixers are manufactured to endure. Mobile, efficient, safe and easy to clean, our entire SoRoTo forced action mixer range is reliable, just as any good concrete mixer should be.
Belt Conveyors
Our SoRoTo belt conveyor range varies from the small, ideal for indoor use 2.0m long belt to the huge, work site optimised 8.0m long belt. All conveyors are versatile, reliable, durable, sturdy, lightweight, easy to clean and maintain machines ideal for both professional and domestic use where large quantities of bricks, rubble, gravel, earth & soil and other building materials need transporting. Each conveyor has been specially designed with a lightweight aluminium frame meaning they can be easily transported around work sites and even angled up staircases. The specialist design has also made each conveyor capable of moving up to 322 tonnes of material per day. This amount of material movement removes a large amount of labour intensive work would otherwise be required. The design also allows for parts of the conveyor to be 'snapped on and off' to enable you to create the perfect length conveyor for your project. You can rest assured, SoRoTo belt conveyors will do the job to the highest standard each and every time used whilst keeping you safe as each machine includes a protective motor switch and a thermal cut off.
Paddle Mixers & Whisks
Paddle mixers are used to quickly and efficiently mix a wide variety of materials such as resin binders, plaster, cement, mortar, paint and more with ease. With soft start and variable speed on certain mixers will ensure greater control of the mixture to reduce the mess created during mixing process. Soft grip handles also give added comfort whilst using mixers. Each paddle mixer uses a specially designed whisk which is attached to the mixer and draws the material through the rotating blades to ensure that a lump-free and consistent mixture is achieved. Our range of 3 hand-held electric paddle mixers are compatible with a large range of different whisks which are used for mixing different materials to ensure everything you mix is done as efficiently as possible. Each electric mixer comes equipped with both a drill chuck and an M14 thread for maximum compatibility with most types of whisk.
Paddle mixers are most commonly used by plasterers and are known in the industry as a plaster mixer or a plastering tool. When used with a SoRoTo GA or SA series whisk (a plasterers whisk) our mixers are the ideal size and shape for mixing just the right amount of plaster for a person to work with without the risk of it beginning to dry before being applied. Our GA and SA series whisks are a conical shape too which means mixing times are up to 20% faster and they are able to scrape the edges of buckets and tubs to remove the need for unnecessary twisting and movement whilst avoiding potential mess.
Combi-Pumps
SoRoTo SITO combi pumps are effective, durable and versatile machines used for water extraction, drainage, diversion, sewage pumping, general industrial pumping and even slurry pumping. With strong motor, long power cable, efficient bottom strainer and a pump which is able to reach up to 10 metres from your power source and pump up to 330 litres per minute to a height of 18 metres down to a depth of 3mm. You can rest assured each combi-pump is the ideal machine for your pumping requirements. Each pump is also fitted with great safety features such as thermofuse (to prevent overheating when dry running) to keep the user out of harms way. On top of safety feature, each pump also has the following specially designed features to keep it working to its maximum capacity; a double mechanical SiC seal in the oil chamber for continuous lubrication and a polyurethane impeller to providing resistance against sand and gravel which can be pumped up.
Spare Parts
We currently stock a large range and are able to supply the full range of SoRoTo forced action mixer and belt conveyor spare parts. Whether you're looking for a replacement switch, mixing paddles, conveyor belt or a new motor we can ship genuine spare parts to anywhere in the UK, Ireland or Channel Islands.
Accessories
As well as the tools and machines already mentioned, we also stock a small range of tool transformers and extension cables which are compatible with the products previously mentioned. The transformers and cables are used in conjunction with a machine to ensure it is properly powered on site and can reach all parts of the project! We have a few variants so you are able to match the voltage to that of your chosen machines.
For more information on our range of tools and machines or for some advice on which product would best suit your needs, please do not hesitate to contact us and speak to a member of our trained customer service team.
Related Blog Posts
To help our customers pick the right product and learn more about how our products can be used, we have compiled blogs which can be read by clicking the button below.
5 steps to make mortar or concrete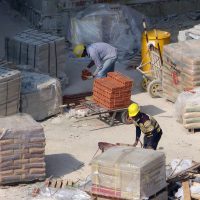 View Forced Action Mixers a guide to mixing cement to make mortar or concrete Cement is a material that can be utilised to bind other components together to make robust...
read more ❯