Benefits and uses of portable mixing equipment
Portable industrial mixers are machines that blend, emulsify, homogenise or otherwise mix material into a single substance.
Industrial mixers thoroughly combine virtually any solid or liquid that is necessary to form a final product. They are used in many industries during the manufacturing process.
Over the last 100 years, mixers have improved effectiveness, efficiency and versatility. They can take considerable amount of material at once, without wearing down.
This blog post takes a look at the different types of portable industrial mixer.
Why use a portable mixer?
A portable mixer carries a wide range of advantages.
Importantly, it means time can be saved as movement can be done with relative ease. The movement of a portable mixer can be done with relative ease. 
By moving of the mixer means that a person that may be involved in the moving of materials is freed up, allowing them to be more efficient elsewhere or saving labour costs.
It reduces the risk of fatigue which would be caused by several trips to carry the materials from outside of a building to where it is needed.
What are the types of portable mixers?
Portable mixers are a staple for liquid mixing and suspending solids in a host of different industries.
In this section we'll take a look at the different types of portable mixer.
SoRoTo designed forced action mixers to be as ergonomic as possible.
When created by Benny Andersen in 1983, they were designed to be handy, easy to take up stairs and through doors. 
The large rubber wheels make it easy to move the mixer around. It is built for easy pickup and lifting into a van.
The forced action mixer is small enough to fit through doorways and it is lightweight enough to move up-and-down stairs.
The larger mixers can be picked up by cranes and transported across construction sites.
The 40L is designed to be a super portable mixer for contractors who need a small but mighty machine.
It has the ability to mix up to 95kg of materials – perfect for plaster, concrete, render or mortar. This machine is the narrowest and lightest forced action mixer in our range. It stands just one metre in height so can easily fit through standard doorways and can be easily moved and loaded into and out of a van or pickup.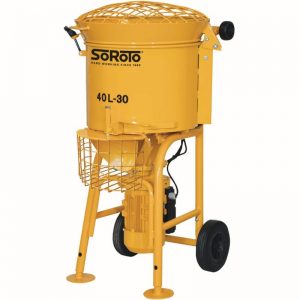 This is designed for contractors who are carrying out larger repairs or erections of new buildings. The 80L can mix concrete, liquid screed, mortar, lime mortar, wet pour rubber or self-levelling epoxies.
The mixer is designed to fit through most standard doorways, unlike traditional drum mixers, and can be transported to the exact area of working.
The 100L is ideal suited for contractors who have a requirement for mixing larger amounts (up to 240kg approximately). This is the most popular choice for resin bound installers as it is able to hold an industry standard four bag mix which provides enough material to give a small team enough time to work with and trowel their time sensitive material into place.
One of the largest mixers available on the market today, the 300L is equipped with three detachable, robust wheels and an adjustable pole, making it easy to transport around building sites. 
With the ability to mix up to 650kg of mixture, the 300L allows you to prepare vast quantities of material ready to lay in as little as 5 minutes. The specially designed mixing arms and paddles allow this mixer to be used for a variety of materials and provide a quality mix from its first to its last. The 300L also comes with three lifting rings to allow the mixer to be moved around by cranes on larger building sites.
Paddle mixers are a type of agitator used in the mixing, blending and conditioning of dry friable materials, sludges and slurries.
This type of mixer is designed for the quick and convenient mixing of substances such as paint, plaser and gypsum jointing compounds.
Mixing paddles have rotating blades to ensure that the mixture is even and free of lumps.
They feature variable speeds to control the rate of mix to prevent splashing.
Homogenisers are used to blend or break down materials completely.
Certain types of industrial homogenisers are used for any type of liquid or soluble that requires high grade mixing products such as oil, cosmetics, pharmaceuticals and food.
Homogenisers are lightweight to reduce hand strain during extended periods of operation and may be post mounted to an optional stand assembly.
Emulsifiers are similar to homogenisers.
It is a high-velocity mixer that uses a perforated screen to mix materials that are otherwise highly difficult to blend.
It has one-handed control with super power. Ideal for animal and plant tissue crushing.
Agitators are used to processing substances with low viscosities.
The agitation process is primarily a processing aid, acting as a secondary procedure in the overall process.
Agitators are motor-driven devices. They can be used in the processes of mixing, dissolution, dispersion and maintenance – whenever powerful and high-speed agitation is required in the food processing, cosmetics, pharmaceutical or chemical industries.
Tank mixers are mixing machines that use tanks to mix materials.
A tank mixer provides flexibility to mix large open top tanks without installing a permanent mixing system.
It operates exclusively on compressed air/gas and sequentially releases timed bursts of large compressed air/gas bubbles at the bottom of the tank to quickly blend the liquids.
Static mixers use flat, thin, ribbon-shaped blades.
They contain strategically-designed blockages that forcefully blend the materials together.
They are sanitary and easy to clean and maintain because of the simple arrangement of the blades.
Compared to static mixers, high shear mixers operate at high speed and are designed for particle size reduction, disintegration, emulsification and homogenisation to a variety of solid and liquid materials.
This application works best in industries such as food preparation, paper and pharmaceuticals.
Drum mixers are built to blend low-to-medium viscosity materials such as cement or adhesives.
These are made from gallon drums that rotate to mix materials of greatly varying particle sizes.
Food processing mixers give a product a particular effect or appearance once mixed with certain materials.
They are commonly used to beat, whip, knead, mix, blend or fold edible ingredients.
These mixers must be highly sanitised due to strict food and health regulations.
Blenders refer to mixers with sharp blades that work at high speeds.
These are best for breaking material down into small pieces.
Planetary mixers are agitators used in cooking or in chemical mixing.
Its name derives from the orbital pattern in mixing around the outer edges of mixers bowls on an elliptical or circular axis.
Batch mixers are mainly used to blend materials with varying lengths of mixing.
The process for the mixers is to blend a single load of material, and are then refilled with the next material, or batch.
Ribbon mixers are static as they do not have any moving parts.
The flat, thin blades instead function as stationary roadblocks that the materials to mix and blends together.
Industrial mixers consist of a large vat or tank to contain the materials and blades that agitate the materials using force.
Industries that involve large-scale commercial production will most likely use industrial mixers, as they are capable of processing materials in large volumes.
In-line mixers placed inside pipes, or in line with material flow. The content is mixed directly inside the pipe rather than inside the tank. This allows them to process exceptionally large batches of material while using an exceptionally low amount of horsepower. They are produce a consistent batch turnover.
Two main types of in-line: static in-line mixer and dynamic in-line mixer. Static in-line mixers work using stationary contoured mixing parts, while dynamic in-line mixers use a combination of high-speed rotating parts and pump pressure.
Stand mixers are mounted on top of their motor so that they can stand upright.
They are easy to diversify – available from 1-gallon to commercial styles upwards of 25 gallons.
There are a number of portable mixing tools which can be used to mix products at a convenient location.
A portable mixer saves time, effort and labour costs.  
SoRoTo forced action mixers are designed for portability. They are compact enough to use on indoor masonry tasks. It is lightweight and small enough to fit through doorways. Plus these mixers have been designed to load onto vehicles.
To find out more information call our helpful and friendly customer service team on 01246 418144 or contact us here.