Edging Profiles for Resin Bound
Showing all 2 results
Edging profiles are a form of resin bound paving edge restraint. They perfect the application of resin bound surfacing. A resin bound paving edge can include bricks, paving slabs, timber or a wall. When an existing edge does not exist a more custom edge is needed, which is when an edging profile is needed. Edging trim profiles provide beautiful edge protection and are available in a range of depths, sizes and materials. They can create a seamless and minimal look to your project.
Aluminium edging
Aluminium edging can be most affordable and is still high in quality. It provides a level, unobtrusive border that is attractive and practical, as it sits perfectly as a working edge. The trim has the capacity to act as movement joints and therefore ensures you can defend against cracking or expansion within the sub-surface. Aluminium trim edging is available both straight and flexible. It can facilitate any shape and therefore can be created to fit your dream design. It can fit between colours meaning the user can personalise their project, using a logo, symbol or lettering.
It is perfect for projects with bespoke-shaped floors and it has high-stress resistance ensuring it is ideal for residential and commercial flooring projects.
Block edging
Block edging is cost-effective and conventional for both domestic and commercial applications. The blocks are uniform and come in a variety of shades which offer an element of choice in term of style and design. It has potential to be an additional decorative feature within any resin bound stone project. Block edging is hard-wearing enough to withstand the harshest weather conditions. The blocks are low maintenance, they can be lifted and replaced and the cleaning process consists of soap and water.
Granite edging
Granite setts are unrivalled in terms of both durability and character. Granite setts consist of stone that has been quarried and worked into shape. This can add character and add impression to traditional and contemporary properties. This type of edging is long-lasting and will not fade due to it being resistant from the elements. The capacity for customisation makes it perfect for the finishing touch to any project.
The Dural Durosel resin bound gravel edging profile is one of the best names in the industry. The ideal finishing solution for resin bound gravel surface installations, our solutions are manufactured from highly attractive and durable aluminium. Durosol offer aesthetically pleasing finished edge, protecting the integrity of bound resin and ensuring a finish to the highest standards. The resin bound edging is simple to fit and can help installers maintain a consistent and even level of surface.
Durosol profiles are L shape edging profiles designed for use in many areas and applications. They are available in heights ranging from 2mm to 50m with a narrow visible edge. The edging are suitable for production of a secure edge trim and for the clean separation of different surfaces. Straight and flexible edging trim are available.
Find out more
For further information about resin bound edging profiles call 01246 418144 or contact us here.
Related Blog Posts
To help our customers pick the right product and learn more about how our products can be used, we have compiled blogs which can be read by clicking the button below.
Driveway legislation: all you need to know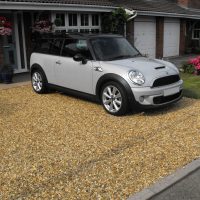 Gravel Driveway Grid View X-Grid Range driveway legislation: do you need planning permission to install a driveway? The legislation around laying a new driveway intensified following heavy flooding across the country...
read more ❯