Showing all 9 results
Solid, safe, vibrant and low maintenance rubber play tiles
Manufactured from 100% recycled rubber waste, our pre-cast rubber tiles which have been tested to BS EN 1177 standards, carry a critical fall height of up to 1 metre are ideal for creating vibrant, soft and safe play flooring for low level play areas. Available in a range of 3 colours, these strong, non-slip, cost effective and low maintenance rubber play tiles allow you to create decorative or natural looking areas by using one colour or multiple coloured tiles for a solid or patterned play area surface. The vibrant colour of each rubber play tile encourages children to continue their development outdoors whilst giving you piece of mind there is a safe surface where your children are playing.
Our rubber play tiles are also easy to install on to either solid and granular existing surfaces by using the included interlocking pegs or securing using a strong rubber adhesive. Despite their toughness, these rubber tiles will still allow natural drainage which means that air, water and essential nutrients are still able to reach the ground below the rubber tiles. You can learn more about our vibrant, soft and non-slip rubber play tiles on the product page or by reading our rubber play tiles specification.
For more information on our range of rubber play tiles or for some advice on which product would best suit your needs, please do not hesitate to contact us and speak to a member of our trained customer service team.
Related Blog Posts
To help our customers pick the right product and learn more about how our products can be used, we have compiled blogs which can be read by clicking the button below.
How to Install Rubber Grass Mats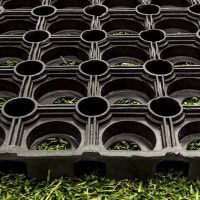 Rubber Grass Mats View Rubber Grass Mats An introduction to rubber grass mats Rubber Grass Mats are the ideal solution to ensure grass can withstand heavy pedestrian traffic whilst it continues...
read more ❯