Showing 1–20 of 45 results
Rubber play surfaces | Safe, vibrant and low maintenance
Our range of rubber play surfacing products are perfect for creating safe and long lasting rubber surfaces for both tall and lower level childrens play areas. Using recycled rubber to create safe rubber surfaces, this range of products are great for creating both vibrant and low maintenance areas. Each product has a set of unique benefits which make them suitable for different projects. Learn more about each product we stock and which would be best for your upcoming rubber play surface project:
Rubber Grass Mats – Recycled Rubber Play Surface Mat
Rubber grass mats are one of our most popular products which are very commonly used on a wide range of projects including creating safe rubber play surfaces. Available in two thicknesses, 16mm and 23mm thick, both are effective when used but a specific grass mat may be needed for a certain application. This is the case for example, around larger play areas where the 23mm grass mat is required due to its fantastic 3.3 metre critical fall height as the 16mm grass mats have a critical fall height of 1.1 metre. Their popularity comes from their durability, versatility, critical fall heights and wheelchair friendliness which make them an ideal rubber play surface option. A grass mats primary purpose is to protect the root of grass and help revive damaged areas of turf return to their natural state, so if installed onto grass your rubber play surface will become almost invisible once the turf below has grown. Whilst being highly effective, our range of rubber grass mats are also easy to install on both level and uneven ground through the use of just cable ties and plastic fixing pegs. Rubber grass mats are one of the most economical and affordable rubber play surfacing mats on the market today thanks to their efficiency and versatility. You can learn more about our safe, non-slip and soft rubber play surfaces mats on the product page or by reading our rubber grass mats specification.
Rubber Tiles – Recycled Rubber Play Surface Tiles
Manufactured from 100% recycled rubber waste, our pre-cast rubber tiles which carry a critical fall height of up to 1 metre are ideal for creating vibrant, soft and safe play surfaces on low level play areas. Available in a range of 3 colours, these strong, non-slip, cost effective and low maintenance play surfacing tiles allow you to create decorative or natural looking areas by using one colour or multiple coloured tiles for a solid or patterned play surface. These rubber play surface tiles are also easy to install on to either solid and granular existing surfaces by using the included interlocking pegs or securing using a strong rubber adhesive. Despite their toughness, these rubber tiles will still allow natural drainage which means that air, water and essential nutrients are still able to reach the ground below the rubber play surface. You can learn more about our vibrant, soft and non-slip rubber play surface tiles on the product page or by reading our rubber tiles specification.
Wet Pour Rubber Crumb Play Surfaces – Recycled Rubber Granules Mixed With A Specialist Resin Binder
Wet pour rubber crumb is an impact absorbing, safe rubber play surface which is traditionally used in playgrounds, parks and other recreational areas. It is a two layered system including a sub-base created from SBR and a coloured top created by mixing together a coloured EPDM rubber crumb and a specially formulated polyurethane resin binder. The EPDM layer is 15mm thick and the SBR layer is a minimum of 20mm thick but this varies dependent on the areas required critical fall height – the taller the equipment the thicker rubber play surface is needed. This is usually mixed in a forced action mixer and laid by specially trained installers. You can see the full range of coloured rubber crumbs and resin binders by viewing the wet pour rubber crumb category.
For more information on our range of rubber play surface products or for some advice on which product would best suit your needs, please do not hesitate to contact us and speak to a member of our trained customer service team.
Related Blog Posts
To help our customers pick the right product and learn more about how our products can be used, we have compiled blogs which can be read by clicking the button below.
How to Install Rubber Grass Mats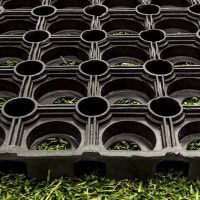 Rubber Grass Mats View Rubber Grass Mats An introduction to rubber grass mats Rubber Grass Mats are the ideal solution to ensure grass can withstand heavy pedestrian traffic whilst it continues...
read more ❯