Showing 1–20 of 27 results
Wet Pour Surfacing: Safe, Impact Absorbing, Vibrant and Effective
Wet pour surfaces are an impact-absorbing, rubber crumb floor covering which is traditionally used in playgrounds, parks and other recreational areas. It is a two-layered system including a sub-base created from SBR and a coloured top created by mixing together EPDM and a specially formulated resin binder. The EPDM layer is 15mm thick and the SBR layer is a minimum of 20mm thick but varies depending on the areas required critical fall height and the two rubber-types combined create the wet pour surfaces.
Wet Pour Ground Preparation
Ground preparation is an incredibly important part of every wet pour installation. The ground below your SBR and EPDM layer must be prepared and levelled before laying the SBR base. The ground can be a new or existing ground made from hardcore, tarmac or concrete but must be level and have sufficient drainage available to ensure the wet pour installation is a success. If using hardcore, a minimum of 150mm must be used to provide you with a strong foundation onto which your wet pour can be laid.
Wet Pour Sub-Base Build Up
With your existing ground prepared, your attention can be turned to an important layer of SBR which will give your wet pour area it's critical fall height. The thicker the SBR layer, the higher the critical fall height. For the full spreading rates and critical fall heights, please see our wet pour product guide which can help you further when working out exactly how thick your SBR and wet pour layers must be.
Wet Pour Installed
Wet pour is created by mixing together EPDM rubber and a wet pour specific resin binder in a forced action mixer to create a material which can then be easily spread, levelled and finished off using trowels. The process of mixing material, laying and levelling is repeated until the entire area has been covered. After curing for approximately 24-48 hours, wet pour can be safely walked on but the amount of time taken to fully cure is dependent on the outside temperature.
Skilled wet pour installers are also able to provide you with graphics in your safety flooring such as different colours, shapes and even games or logos to meet your needs. From creating hopscotch, number games or even roads, the patterns are stimulants for users to encourage developmental learning. Speak to your installer for more advice on graphics.
Wet Pour Maintenance
Wet pour is easy to maintain once installed by following simple preventative and reactive steps which include:
Only allowing appropriate footwear to be used on the surface (high-heels and studs can damage the surface),
Sweeping leaves and other debris away from the surface,
Routine cleaning using hot water (not boiling) and soap to remove stains or mud whilst preventing moss, algae and vegetation build-up,
Removal of any singular weeds or plants by hand or groups of weeds using domestic weed killer but oil-based weed killers must not be used.
For full installation and maintenance instructions read through our wet pour product guide or for some advice on which product would best suit your needs, please do not hesitate to contact us and speak to a member of our trained customer service team.
Related Blog Posts
To help our customers pick the right product and learn more about how our products can be used, we have compiled blogs which can be read by clicking the button below.
How to Install Rubber Grass Mats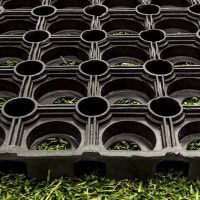 Rubber Grass Mats View Rubber Grass Mats An introduction to rubber grass mats Rubber Grass Mats are the ideal solution to ensure grass can withstand heavy pedestrian traffic whilst it continues...
read more ❯