Project Brief: To create an attractive, durable, low-maintenance and fully permeable driveway 
Total Project Area: 126m²
Product Used: PermaBound Resin Bound Gravel Kits – Ocean Grey Blend
In this case study, we explore a recent resin bound gravel driveway installation project completed by A1 Surfacing Ltd, using PermaBound materials, that aimed to enhance both the aesthetics and functionality of a property's driveway.
The homeowner sought to replace their worn-out, uninspiring driveway with a modern, attractive and SuDs-compliant surface. After careful consideration, they opted for a resin bound gravel driveway using an Ocean Grey blend. Let's delve into the details of this transformational project.
Wanting a durable and low-maintenance solution that would not only withstand heavy use but also enhance the overall curb appeal of their property. After thorough research and consultation with A1 Surfacing, they decided to proceed with a resin bound driveway installation.
The installation process began with the thorough preparation of the existing surface. The worn-out driveway was carefully removed, and replaced with a permeable tarmac surface which provided a clean and level base for the new resin bound application.
This strong foundation established a porous sub-base to allow for effective water drainage and minimise the risk of standing water. As is best practice for resin bound surfacing, the team marked out 37 bays of approximately 3.6m² in which they would lay each of their mixes.
With all of their preparation work complete, the experienced installers began to produce their mixes by combining our high-quality PermaBound UVR+ resin binder and a unique blend of Ocean Grey aggregate in a forced action mixer.
The resin and aggregate mixture was then emptied into the next marked-out bay and roughly spread using a spazzle before being meticulously hand-troweled by seasoned professionals onto the prepared surface to create a seamless and smooth finish. This process was then repeated over and over with the exact same mixing timings and troweling process until the driveway was complete.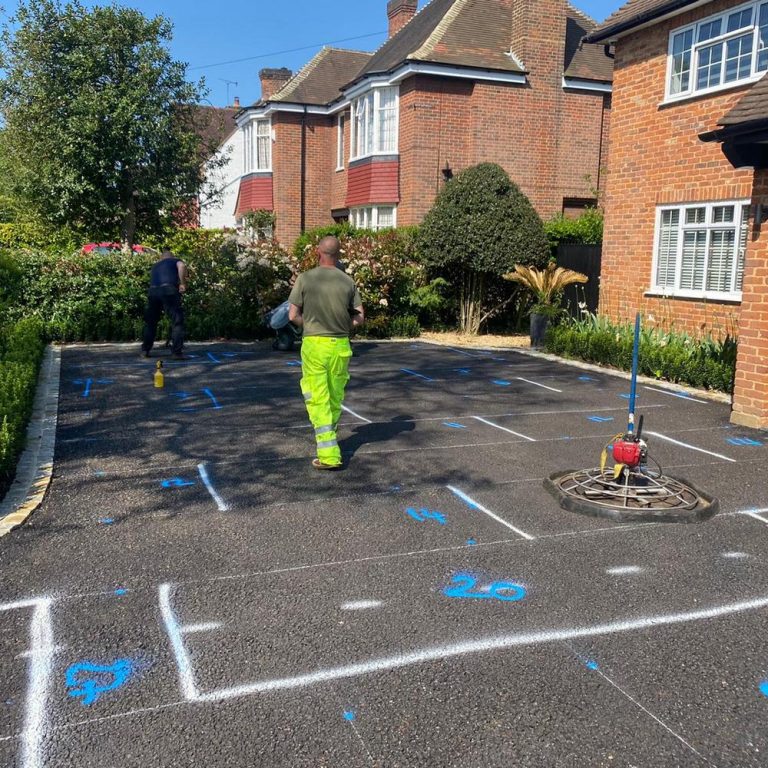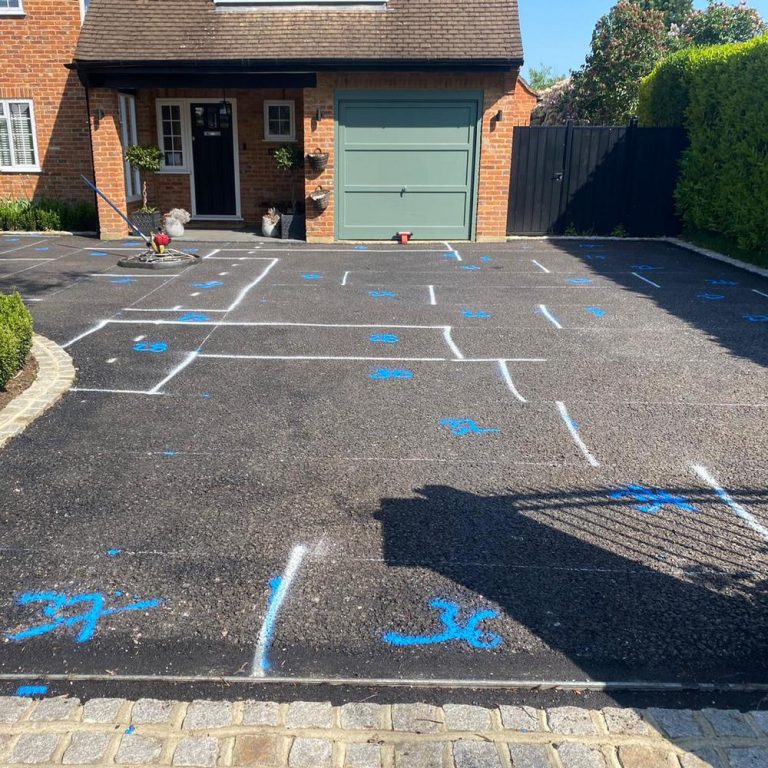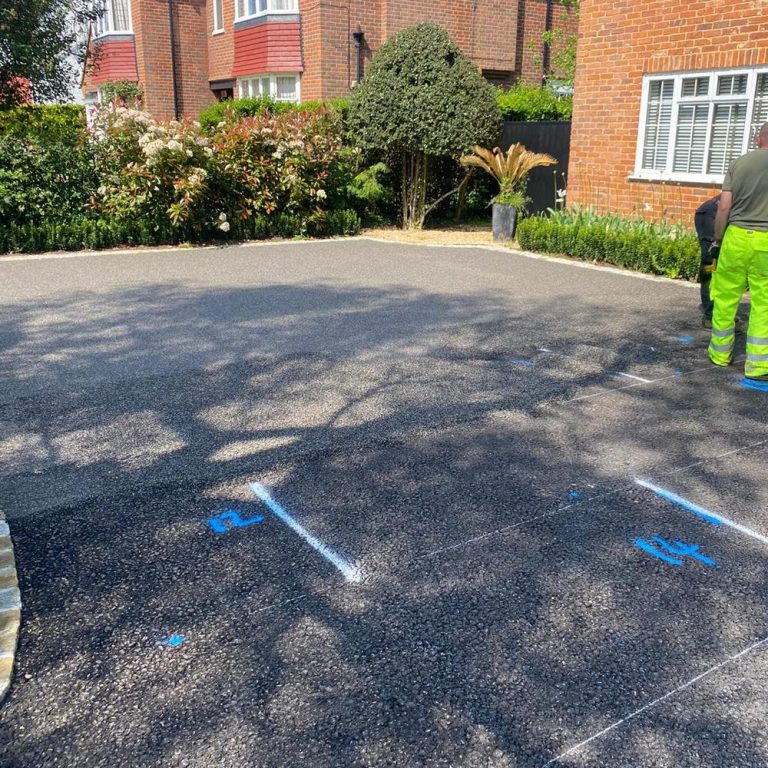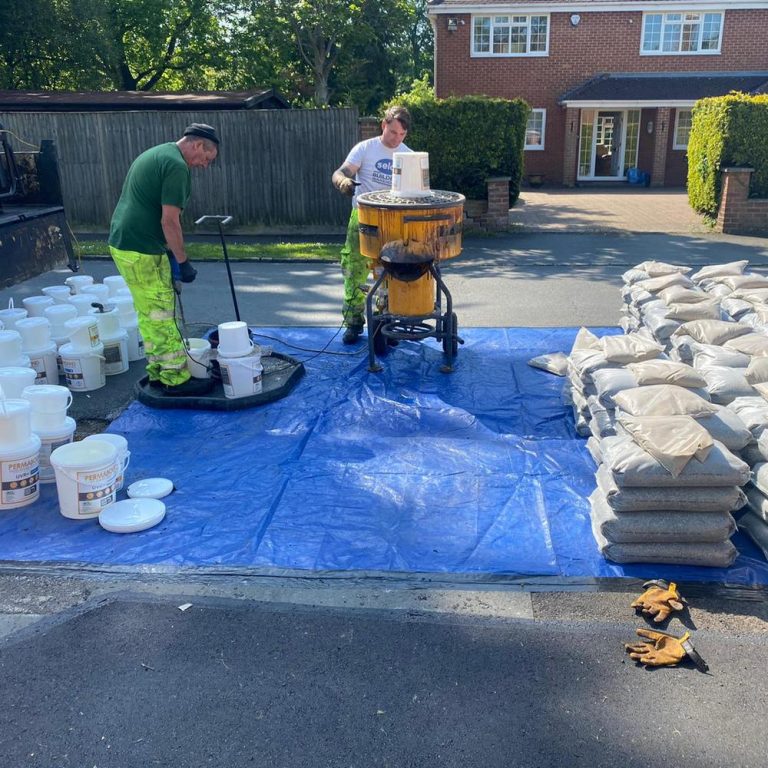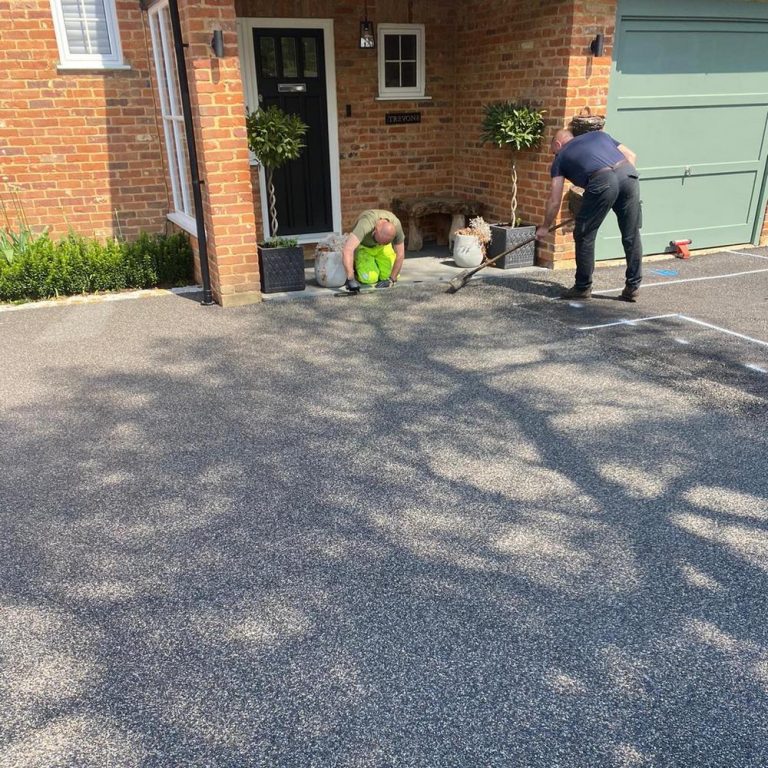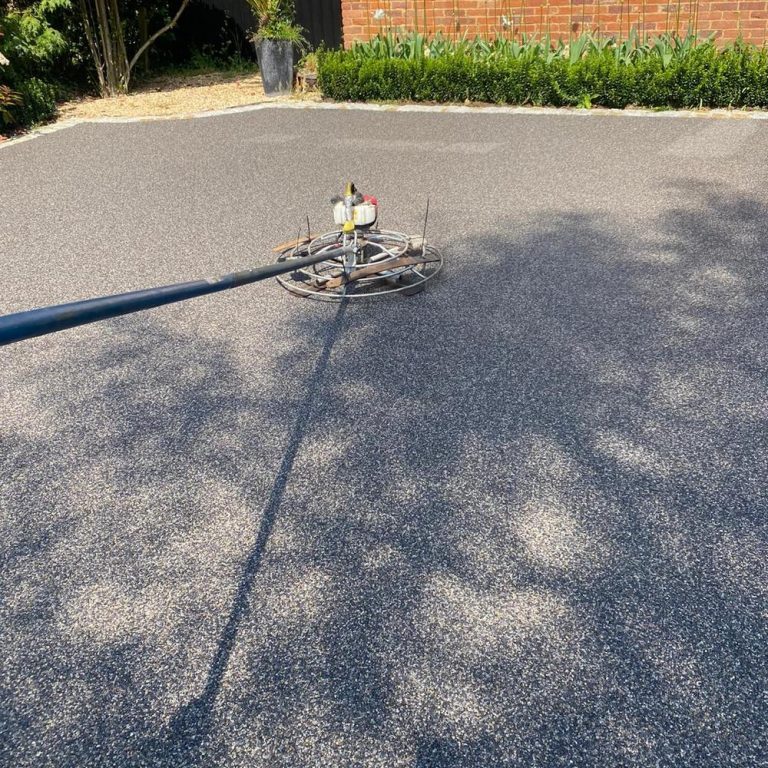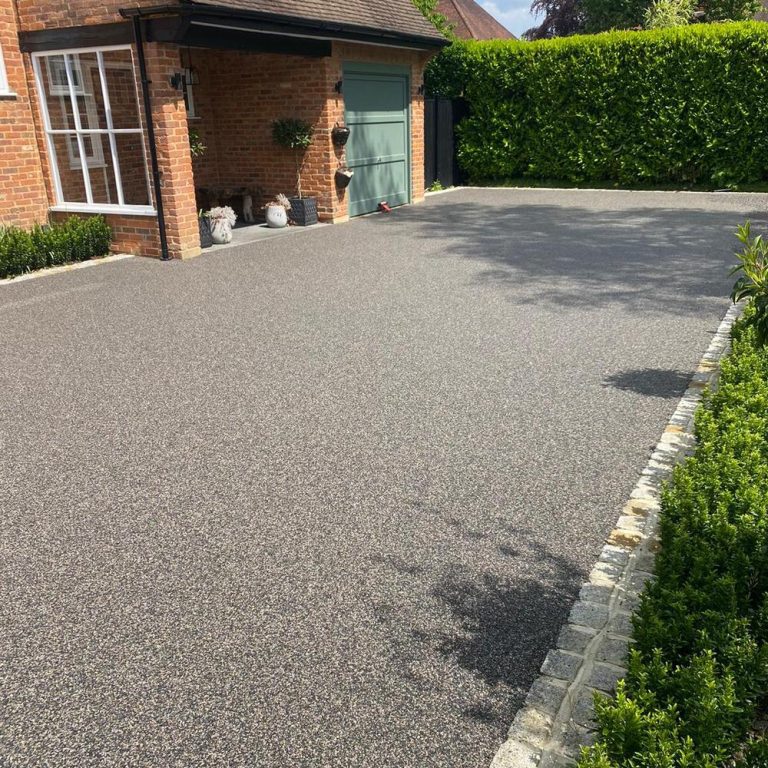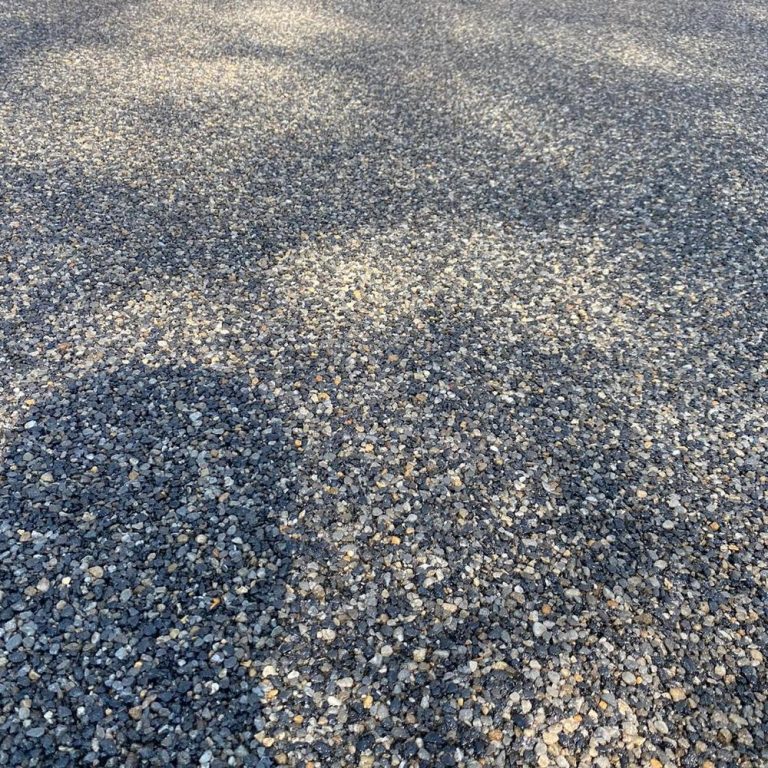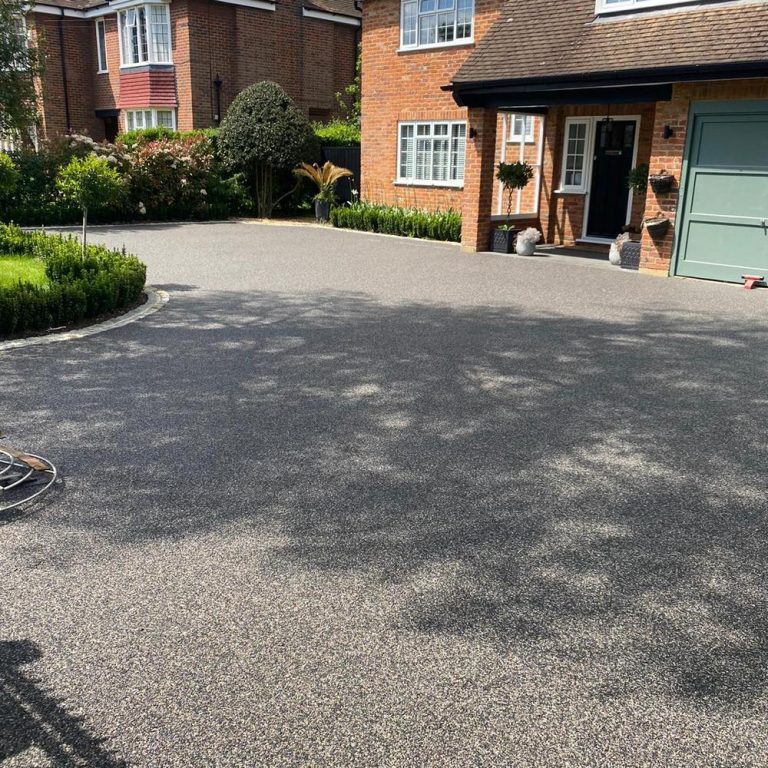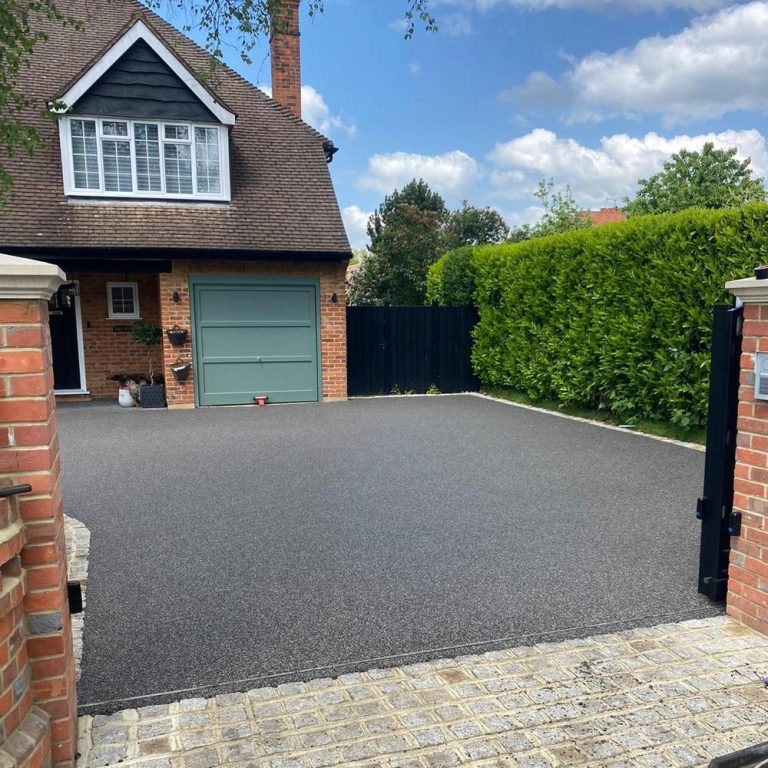 The completed Ocean Grey resin bound gravel driveway provided an instant visual transformation to the property. The cool grey tones of the aggregate perfectly complemented the surrounding architecture, creating a contemporary and inviting entrance.
The smooth finish of the resin bound surface added a touch of sophistication too, whilst the permeable nature of the material allows for effective drainage, preventing the accumulation of water and reducing the risk of localised surface flooding.
Furthermore, this superb surface is incredibly low maintenance, being easy to sweep away debris, whilst an occasional power washing will restore its pristine appearance.
The durable nature of the resin bound system ensures the driveway can withstand the weight of vehicles without compromising its integrity, offering long-lasting beauty and functionality.
For more information on our range of resin bound gravel products or other surfacing solutions, or to request a quote for an upcoming project, please do not hesitate to contact us.