Showing 1–20 of 37 results
Versatile, Durable & Effective 40 Litre Forced Action Mixer
The SoRoTo 40L is the smallest forced action mixer in our range. The 40L is designed to be a super portable mixer for contractors who need a small but mighty machine – it was initially created for tiling and masonry work in mind but was soon utilised by people in other industries. Able to mix up to 95kg of materials, you can mix your plaster, concrete, render or mortar exactly where you need it due to the 40L forced action mixer being narrow, light and able to fit through standard doorways and up stairs. A relatively light machine at 64kg and just over one metre in height, the SoRoTo 40L can be easily moved and loaded into and out of a van or pickup, by one person. If you're mixing tile adhesive, concrete, mortar, lime putty plaster screed, epoxy resin, grouting or wet pour rubber the SoRoTo 40L forced action mixer is able to consistently out perform the competition. With mixes completed in just under 4 minutes per load, thanks to its specially selected motor and 30PRMs, you're sure to reduce the amount of time on site when compared to traditional rotary drum mixers.
In this category you can see that we have two variants of 40L forced action mixer. A 110v and 230v mixers which are almost identical apart from the extension cable and transformer needed to power them, there is more information on the required equipment in the individual product listings. As well as the two mixers we also have the entire range of 40L spare parts available for purchase now, meaning should you require a new set of blades or a safety grille, we can have them ready for you to collect or even delivered to your door! Take a look through our range if you are in need of spare parts.
For more information on our SoRoTo 40L forced action mixer or for some advice on which product would best suit your needs, please do not hesitate to contact us and speak to a member of our trained customer service team.
Related Blog Posts
To help our customers pick the right product and learn more about how our products can be used, we have compiled blogs which can be read by clicking the button below.
New trade counter now open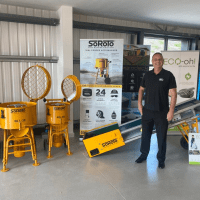 We've opened a new trade shop at our brand new premises at Sheepbridge Lane, Chesterfield, S41 9RX. Open Monday to Friday, we stock some of the most loved brands in the landscaping, groundwork and construction industry.
read more ❯