X-Grid: The ultimate in gravel retention grid
X-Grid is the ultimate in gravel retention grid.
It is a highly versatile gravel grid product with a wide range of uses; from golf and leisure, landscaping, car parks, a base for garden buildings and use on farms.
But it is perhaps driveways where it is best known. It can be used to create a permeable, SUDS compliant solution that can be withstand the heaviest vehicles. 
Himsley Field Cottage in Dudley, West Midlands was the latest property to use X-Grid for this purpose. We spoke to Paul Rudge to find out why it was suitable.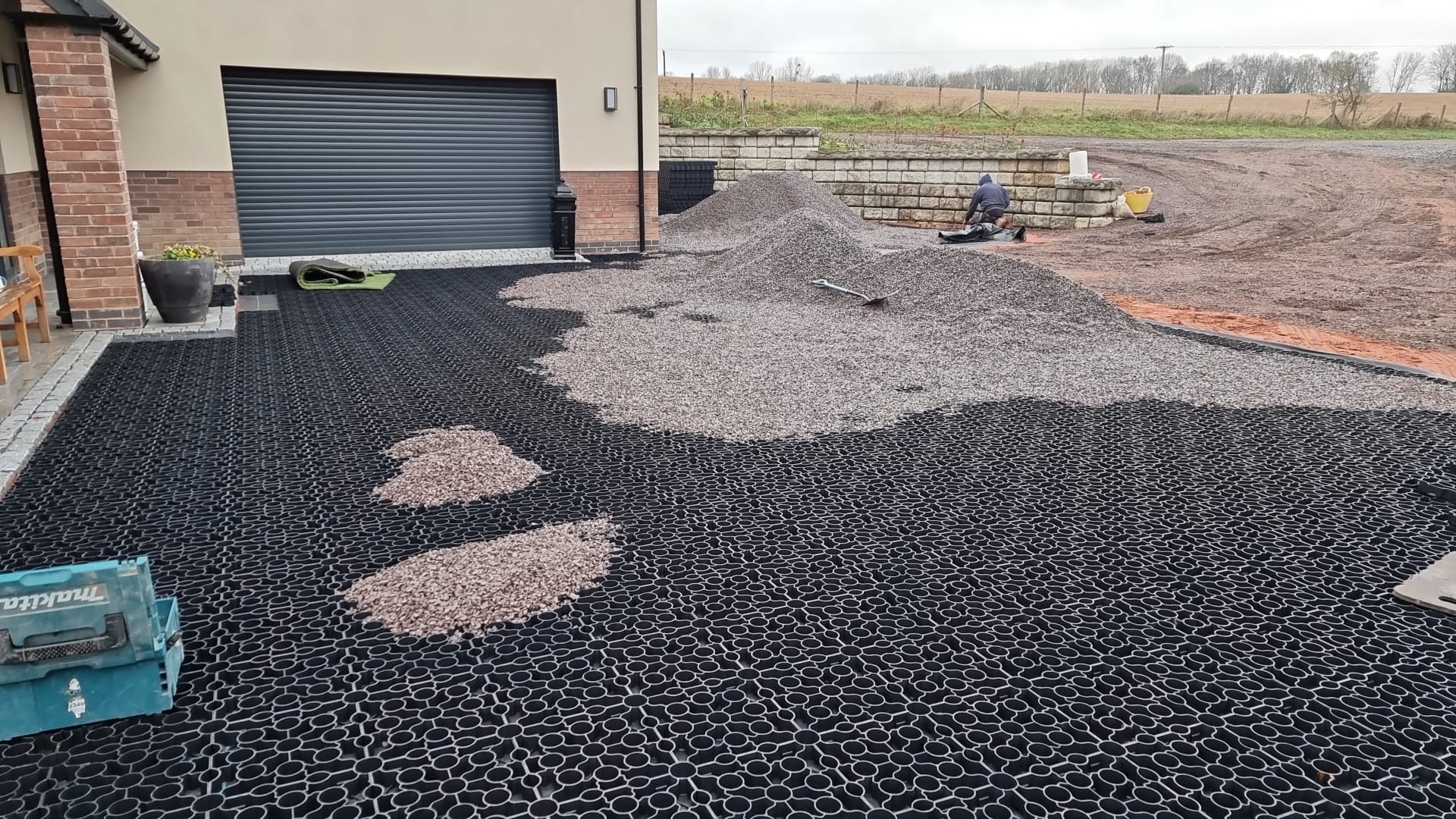 Easy and quick to install gravel grid
Paul needed a gravel grid solution for Himley Field Cottage and undertook thorough research to ensure he had the best grid for the job.
He told us: "I looked at seven gravel grid products including yours and samples from all parties. After looking at them all I decided to go with the X-Grid mainly because of the size. I preferred the smaller squares especially when doing cuts, and I did like the fact they came assembled.
"GCL's costs were towards the top of the seven products, but it reflected quality. I had two more expensive than the GCL X-Grid, but they were much heavier duty and designed for lorry parks. Four were cheaper, two were poorer quality and the other two were well made and made me look hard before deciding.
"The reason I decided to buy the X-Grid was the quality. It is a well made product that is fitted together very well and it was very easy and quick to lay.
"The staff at GCL were very friendly and well informed on the product and I preferred the pattern."
X-Grid holds the gravel firmly in place
X-Grid is perfect for preventing gravel migration and this was ideal for Paul.
He continued: "I have had gravel drives before and understand gravel moves when driven over, but now with the X-Grid nothing moves, it creates a firm surface to walk and drive over.
"The finished article is even better than I thought, so I'm very pleased."

Made to withstand vehicle weight
X-Grid has a load capacity of 428 tonnes per square metre so it can withstand vehicle weight.This immense compressive strength means the driveway can handle almost anything.
It is low maintenance and means surface maintenance expenditure can be saved.
It is weather-resistant and does not rot or degrade. It is also resistant to the effects of UV weathering and will not change colour or become brittle with UV radiation.
X-Grid: Key Facts
Load Capacity: 428 Tonnes/m2
Panel Size: 330x330x40mm
Colour: Black/Green/Natural
Panel Weight: 574g
Void Ratio: 93%
Operating Temperature: -50 to +90°c
Wall Thickness: 3mm
Lifespan: Up to 25 years
X-Grid is eco-friendly made from 100% recycled plastic which has been sourced in the UK. It means X-Grid can remove plastic waste from landfill and can be fully recycled at the end of its usable life.
It is a highly permeable alternative to tarmac and concrete surfaces. The nature of the grid allows water to pass through the structure and into the sub-base below – which helps to reduce surface water run-off. This helps to mitigate the effects of severe rainfall by locking groundwater into the sub-base for it to gradually soak away, diverting water from the sewer system.
Paul commented how contractors for the installation at the cottage were very pleased with the gravel grid.
"The company I used to lay the product before and were very impressed with how easy it was to use and how it was when finished.
"My contractors have secured two more jobs using gravel grids from this project, and will also be offering this an alternative to other projects they have going forward."