Forced action mixer for sale
Forced action mixers make light work of mixing resin bound and bonded surface mixtures, providing a consistent, even mixture every time.
A resin mixer is ideal for the most demanding mixing jobs performed by professionals.
Forced action pan mixers are suitable for resin bound tasks because the internal paddles cut through the mix rather than just using gravity. They can complete demanding mixing jobs including concrete, screed, adhesives, mortar, and polymer based miners.
They create the fastest and most thorough mix with optimum efficiency.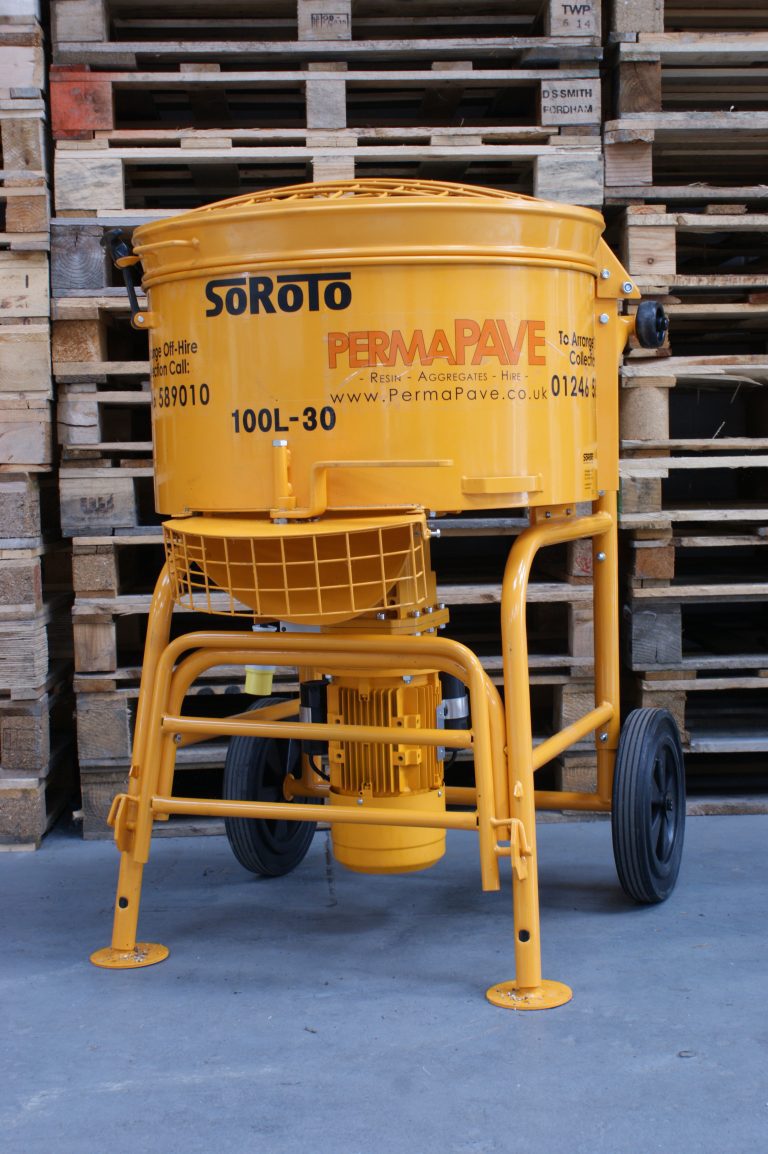 What is a forced action mixer?
Forced action mixer can be used in a wide range of applications including the mixing of concrete, render mortar, resin bound gravel, screed and plaster. 
A forced action mixer has superior force – and sturdy construction – resulting in the mixing time being cut short.
SoRoTo was established in 1986 and is a leading manufacturer and supplier of forced action mixers. Its original forced action mixers are recognised around the world for for durability.
what are the features of forced action mixers?
The machines have a number of features, including: a bracket mounted on the machine to situate a brick trowel, a bucket stand, a safety grid in front of the discharge chute, and a safety switch.
The larger 200L and 300L models are equipped with a spare power outlet for work lighting, or industrial vacuum cleaners, and the machines are equipped with a rubber strap that ensures the grid lid does not open during use or transport.
SoRoTo mixer arms can be removed without the use of tools, making cleaning or interchanging between rubber/steel systems, is made much easier.
Ease of loading is ensured through loading wheels, custom-made lowered bolts and adjustable telescopic legs.


How much does a forced action mixer cost?
The Forced Action Mixers from SoRoTo are packed with features but all are excellent value for money.
SoRoTo 40L: This machine is ideal for mixing concrete, mortar, wet pour rubber, render and mortar. A relatively light machine at 64kg and only just tipping one metre in height, the 40L can be moved around and loaded into and out of a van, all by one person.
Price: £1,330.00
SoRoTo 80L: The 80L is designed for contractors who are carrying out large-scale repairs or the erection of new buildings. It is easy to transport to the exact area of working, saving time and effort. Optional rubber paddles can prolong the life of mixing paddles.
Price: £1,550.00
SoRoTo 100L: The 100L is our best-selling forced action mixer. It is ideally suited to contractors who have a requirement for mixing large amounts (up to 240kg approximately) of materials. It is narrow enough to fit through standard doorways. It can be taken inside and to the exact location that it is needed. Instead of having to down tools to carry small buckets of mixed materials back to where your working, this feature increases productivity and profitability.
Price: £1,900.00
SoRoTo 120L: The 120L is designed and manufactured to withstand the toughest environments that machinery can face on building sites. It's suitable for almost any mixing job from resin bound gravel to wet pour rubber and liquid concrete. The mixing capacity of 120 litres means it is suitable for the biggest and most awkward of jobs.
Price: £2,350.00
SoRoTo 200L: The 200L is perfect for contractors who require high-capacity output machines which are efficient, portable and reliable. It has a specially selected 2.2kW motor and whilst still delivering 30rpm the mixer performs great in almost any circumstances. Unlike other large mixers, this machine can be easily transported and used on slanted and hard areas due to its adjustable legs.
Price: £2,900.00
SoRoTo 300L: The 300L is one of the largest mixers available on the market today. It is perfect for contractors who need a high-capacity machine which is reliable and portable. The is rugged and durable and features a quiet motor. Three detachable, robust wheels and an adjustable pole mean it is very easy to transport around a building site. It also features three lifting rings to allow the mixer to be moved around by cranes on larger building sites.
Price: £3,450.00
The above mixers have proven record of:
High quality results for customers
High service life
Available technical support
Stock and availability of spare parts and accessories
Long-term use
Ease of maintenance and cleaning
Warranty twice the industry average