What's the difference between resin bound and resin bonded surfacing?
There are two main types of resin gravel surfacing available for outdoor areas – resin bound and resin bonded.
A resin bound surface is a self-draining surface when laid on an open grade binder or drilled base. The mixture has tiny voids in the surface allowing water to filter through, making it a permeable solution that is good for the environment.
On the other hand, a resin bonded surface is non-permeable and must be laid on a non-porous fine wearing course asphalt or concrete base.
A resin bonded system looks and feels like loose gravel without migrating stone.
The finished surface feel and provides high levels of grip. This is ideal for areas such as disabled ramps.
However, the bonded system is not permeable so there needs to be drainage in place and excessive wear may loosen some stones from the surface over time.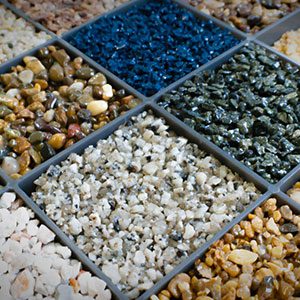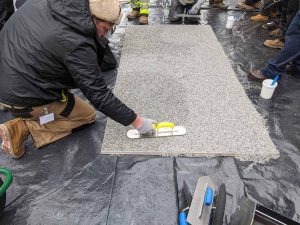 What applications are they suitable for?
Resin bonded surfaces: This surface is perfect for paths and walkways but runoff and drainage channels should be planned in advance to eliminate flood risk. Resin bonded surfaces will over time lose their gravel through erosion as pieces of gravel become dislodged from the resin, and will require patch repairs or relaying periodically.
The textured finish allows for better grip and traction, which creates a safe surface for high-traffic walkways. It is commonly used on bridges and inclines which can become slippery when wet and around areas with lots of trees.
Resin bound surfaces: As the gravel is mixed with the resin before being laid, this type of surface goes down as a smooth and level texture. As the gravel is bound in the resin, it's much harder for the aggregate to become dislodged from the binder and so is more hardwearing than the resin bond technique. It makes a fantastic decorative finish for drives, paths and ornamental gardens.
Tree pits are laid using resin bound surfaces, with a larger sized aggregate often used to provide greater permeability. Outdoor sports surfaces and cycle paths are commonly finished with resin bound aggregates.
A large variety of coloured aggregates make it easy for surfacing to be carefully customised to match or contrast surrounding areas.


How to use a forced action mixer for resin bound gravel
To create resin bound gravel, you first need to set up materials.
For every resin kit, you would mix 4 x 25kg bags of aggregate. This typically consist of 3 x 25kg of 2-5mm stone and 1 x 1-3mm stone.
Add the resin and the aggregates to the mixer. Start a stopwatch for five minutes.
Slowly add the contents of a bag of C52 sand into the mix.
Once the sand has been added, make sure it has been distributed evenly throughout the mix.
At the end of the timer, empty the mix into the wheelbarrow.
Empty the scraps from the mixer. It is important to clean the mix after use – read more here.
Resin bound gravel is a permeable solution which is ideal for drives, patios and outdoor spaces. It is SUDs compliant and can be used to reduce the risk of flooding.
On the other hand, resin bonded surfaces are non-permeable, but its friction properties mean it is ideal for high-traffic roadways and disability ramps.
Resin bound gravel is easy to create using a forced action mixer in under five minutes. Using a machine that you can take where it is needed saves time, and ensures a smooth, consistent mix.
SoRoTo 100L: This mixer is recommended for resin bound gravel. It combines aggregate and resin evenly and quickly to ensure maximum time to work or trowel the product in place before the resin starts to cure.
It is also compact and lightweight enough to take it where you need it. This reduces the need to have to carry small buckets of mixed materials back to where you are working.
To find out more information contact us here.
Alternatively, call us on 01246 418144 or contact us via webchat.