Global warming could increase surface water drainage
This risk of surface flooding occurs when rain is so substantial that the ground cannot cope and drain water quickly enough. According to scientists, this will become a more frequently occurring as the climate emergency worsens. This means as time goes on, surface water drainage charges will only increase.
Surface water drainage occurs when rainwater falls on a property and drains away. If rainwater drains from the property into a public sewer, the company will be charged via a sewage bill.
The company, can however, put plans in place to limit the amount of water that drains from the property into a public sewer. This blog post explains.
What are surface water drainage charges?
Surface water drainage occurs when rainwater from the property flows into the sewer. The water company collects and treats this surface water and charges for this service.
The property owner will pay for the surface water drainage in one of three ways:
A fee in the standing charge
A charge based on the rateable value of the property
Through a charge related to the type of property you live in
Source: Ofwat
Surface water charge exemption
If surface water from the property does not drain into the public sewer, the company may be entitled to an exemption.
Most rainwater falling on properties drains into public sewers that are owned by the ten water and sewerage companies in England and Wales. The surface water drainage charge covers the costs of taking away and treating surface water that runs from properties into a sewerage company's sewers. This includes water that flows through gutters or which runs into the road and ends up in a company-owned sewer.
If no surface water from the property enters a public sewer then you may qualify for a reduction in the sewerage charge – which is known as the surface water drainage rebate.

How to apply for a surface water drainage rebate
If companies do not know the surface water drainage arrangement of all the individual properties in an area – this means that companies need to make an application for a rebate.
The company should provide evidence that none of the surface water enters the public sewer. A check will then be completed on the property.
In instances where the company may not know that the property was not connected to a sewerage system for surface water drainage. In these cases, the rebate should be applied for based on the date at which it knew (or might reasonably be expected to have known) that the property was not connected.
Should this application be approved:
The company will not be charged for the surface water drainage on future bills
Some of the amounts paid previously may be refunded.
Solutions to reduce surface water drainage charges
There is a range of actions that can be taken in order to reduce surface water drainage charges.
Areas that drain naturally, such as sports fields, should not be included in the chargeable site area – only that which enters public sewerage systems. By changing impermeable areas into permeable ones. Natural drainage can be promoted by converting areas that do not allow water to soak through, such as an asphalt car park, to ones that do.
Permeable Paving
Permeable paving is designed for infiltration of storm water.
It can include pervious concrete, porous asphalt solution, porous asphalt, paving stones and interlocking pavers – and can be used in a variety of applications including roads, car parks and pedestrian walkways.
Block paving can be used in order to create a contemporary or traditional patio. Decorative patio stones mean gardens can be enjoyed all year round while preventing puddles and allowing natural drainage.
Porous tarmac is a fast-draining porous asphalt solution. It is designed for the long term while it possesses drainage characteristics.
Finally, the permeable paving grid is lightweight, strong and durable. It is highly effective at reducing surface water – by allowing it to drain away naturally – while maintaining an attractive surface. 
X-Grid is an example of a permeable paving grid. It is a versatile, SUDS compliant ground reinforcement grid which is suitable for a number of applications including driveways, patios and footpaths. It is the only gravel grid to be Made In Britain certified.
The permeable nature of the grid allows water to pass through the structure into the sub-base below. This helps to reduce surface water run-off and diverts water from the sewer system.
Rubber Mulch
Rubber bark is a strong and permeable rubber shred surfacing solution. The design of the mulch allows rain and surface water to drain naturally into the ground below.
It is manufactured from recycled tyres before being covered in durable PU coating to create a bark-like appearance.
Mulch is a natural-looking, easy to install and cost-effective product. This low maintenance, permeable, impact absorbing and wheelchair friendly rubber surfacing is commonly used in playgrounds, play areas and recreational areas.
Wet Pour Surfacing
Wet pour rubber is an attractive, impact absorbing and low maintenance rubber crumb safety surface which is commonly used as flooring around playgrounds, parks and other recreational areas. Wet pour is created by mixing together a coloured EPDM rubber and a wet pour specific resin binder in a forced action mixer to create a material which can then be easily spread, levelled and finished off using trowels.
Wet pour flooring allows companies to benefit as it allows different colours and logos to be added.
Wet pour rubber allows surface water to drain away naturally, help to prevent localised flooding and reduce the amount of water entering the sewerage systems.
Resin Bound Gravel
Resin bound gravel is a SUDS compliant solution used in conjunction with a porous base allowing rainwater to drain away naturally. The beauty of resin bound gravel is that a wide choice of colours and combinations is available.
Ideal for car parks, footpaths, bus lanes and road markings.
Soakaway Crates
Soakaway crates are constructed using modular water storage cells. The creates collect water from the soil from 40-70cm below the surface.
RecoCrate is a range of recycled plastic crates for soakaways, attenuation and storm water management. It is used to create permeable infiltration systems, underground water storage and attenuation systems. It can be used in order to collect as much water as possible by using a non-permeable membrane to prevent liquid from escaping or can be used with a permeable membrane to slowly release water into the ground.
Rain Gauge  
Away from permeable products, the rain gauge is also highly useful for monitoring water waste.
The gauges monitor rainfall in an outdoor area. The rain measurement can be taken with ease via the imperial and metric measurements.
To find out more information, call us on 01246 418144.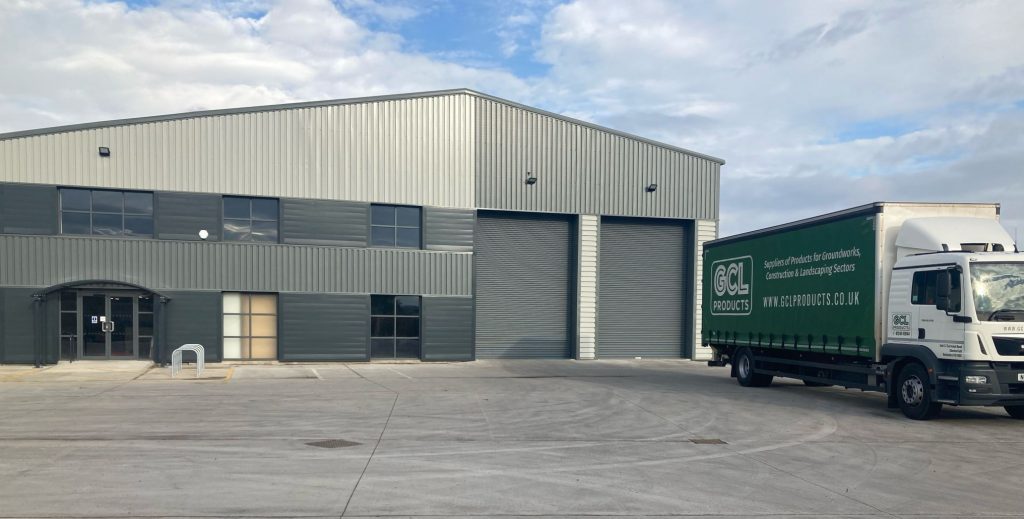 Surface water drainage could be on the rise as a result of global warming and increases in flooding.
The property owners and business owners must pay a charge on the amount of surface water drainage that leaves the property into the sewerage system. So, as the threat to the climate increases, so will company bills.
It is possible to achieve a surface water charge exemption – if the company can prove that surface water does not drain into the public sewer.
Ultimately, a natural drainage system can help reduce the amounts of rainwater entering the system, therefore improving the environment and reducing a range of costs.
To find out more information on any of the products in our range, call us on 01246 418144, contact us on webchat or email us here.
Alternatively, visit us on Sheepbridge Lane, Chesterfield.