X-Grid is suitable for a range of golf course applications
There are a number of golf course applications that X-Grid could be – and indeed has been – used for.
With up to 428 tonnes per square metre it is the ultimate in ground reinforcement grid.
The applications include everything from cart paths to pedestrian walkways. This blog post explains.
Made in Britain accredited, X-Grid is designed and manufactured in the UK from 100% recycled plastic.
It is ideal for creating a solid, durable and low-maintenance surface.
The grid is lightweight. Weighing in at just over 5kg per square metre, X-Grid is easy to handle and lay. It is ultra-strong; capable of withstanding over 420 tonnes of compression per square metre. 
How is X-Grid used on golf courses?
X-Grid is used extensively across UK golf courses for a number of applications.
Whether it's for cart paths, trolley tracks, footpaths, cart parking or services areas, car parking or just generally around landscaped areas, the ground reinforcement grids are ideal to solve poor drainage or high-traffic wear.
X-Grid can be filled with a host of different mediums such as soil and grass seed, gravel, sand or bark.
It is one of the most versatile and porous paving grids on the market today
How does X-Grid benefit the upkeep of golf courses?
X-Grid for golf is a multipurpose plastic grid manufactured in the UK from high-density polyethylene. It is designed to reinforce the ground, reduce the migration of gravel, protect against erosion and compaction, and maintain and improve natural rainwater drainage routes.
The use of X-Grid means that the amount of time and cost spent on the upkeep of golf courses can be dramatically reduced.
This is because, when used as a grass reinforcement paver, X-Grid reduces the amount of friction and stress that grassed areas of the golf courses receive.
When the golf course is busy, high-traffic areas such as around greens, footpaths and along the edges of fairways can quickly become eroded and bald. By fortifying the area with a plastic ground reinforcement grid, the need for regular maintenance such as hollow-tining, re-seeding and sanding grass surfaces on golf courses can be practically eliminated.

How easy is X-Grid to install?
Mark out the area to be excavated and dig down to an appropriate depth according to the intended use. Typical dig depth is around 200mm to allow for the MoT hardcore layer, levelling sand and grid depth.
Install perimeter edging which is substantial enough to retain the grid installation, such as 150mm pin keb edging, timber edging, stone setts or bricks. This will help to eliminate lateral movement of the surface.
Backfill by compacting MoT type 1 or 3 in layers of 50mm to achieve a final depth of 150mm.
Lay and secure a sheet of geotextile membrane across the MoT sub-base area. You must ensure that the membrane is flat to the surface by securing it into the ground using fixing pegs or pins as required.
With the membrane in place, lay a 5-10mm thick layer of sharp sand to the entire area to level it out and create a granular bedding for the grid to sit on.
On the fully formed, well consolidated sub-base, begin laying your X-Grid ground reinforcement grids. Start in one corner, lay one panel at a time and simply connect any neighbouring X-Grid panels using the slot and peg snap connection. Repeat the process of lay and connect until the area is covered. 
If needed, X-Grid can be cut using a hand or power saw to fit into your specified area or to navigate around obstructions and curves. X-Grid panels can then be firmed in place using a light vibrating whacker plate. Edges which require a pannel less than -150mm can be simply be backfilled against the edging without grid.
Once installed, fiill the X-Grid with a gravel or aggregate. Preferable a 10-20mm diameter, well graded, clean and angular material. Fully rounded 'pea shingle' is not recommended due to probable migration of the gravel.
The surface of the X-Grid can be compacted if needed.
If there are low areas, refill these spots with gravel and compact again until a finish is achieved.
X-Grid is good for the environment
Grids are laid on a free draining base and filled with a material of choice. 
It is an eco-friendly, highly permeable alternative to tarmac or concrete surfaces.
The permeable nature of the grid allows water to pass through the structure into the sub-base below and helps to reduce surface water run-off which can cause flooding.
The systems helps to mitigate the effects of severe and/or sudden rainfall by locking groundwater into the sub-base for it to gradually soak away, diverting water from the sewer system.
X-Grid is highly efficient and it can help to reduce project costs in a number of different ways. It reduces labour time through fast installation, reduces dig and fill requirements, saves on material costs and eliminates on going maintenance costs, making the surface much more economical over time.
X-Grid can help make your golf course stand out
X-Grid Ground Reinforcement Grid can make the golf course paths stand out.
The panels can be used to create a variety of styles for the simple-looking golf course path. The paths serve the purpose of keeping the golf carts off the green. The X-Grid gives the paths the ability to add even more style and beauty to the course.
X-Grid pathways are set apart from the rest of the golf course to stand out and for safety. The unique style of the reinforcement grid means it can be placed in specific locations to show names or logos. Three different coloured panels are available to create a unique backdrop that people will notice. The potential is limitless.
The lightweight design of the panels allows you to create and rearrange the golf course paths to suit the changing needs of the golf club. X-Grid can ensure paths add a wow factor to the course.
Available in black, white and green.
Read this informative article on X-Grid being used for golf courses.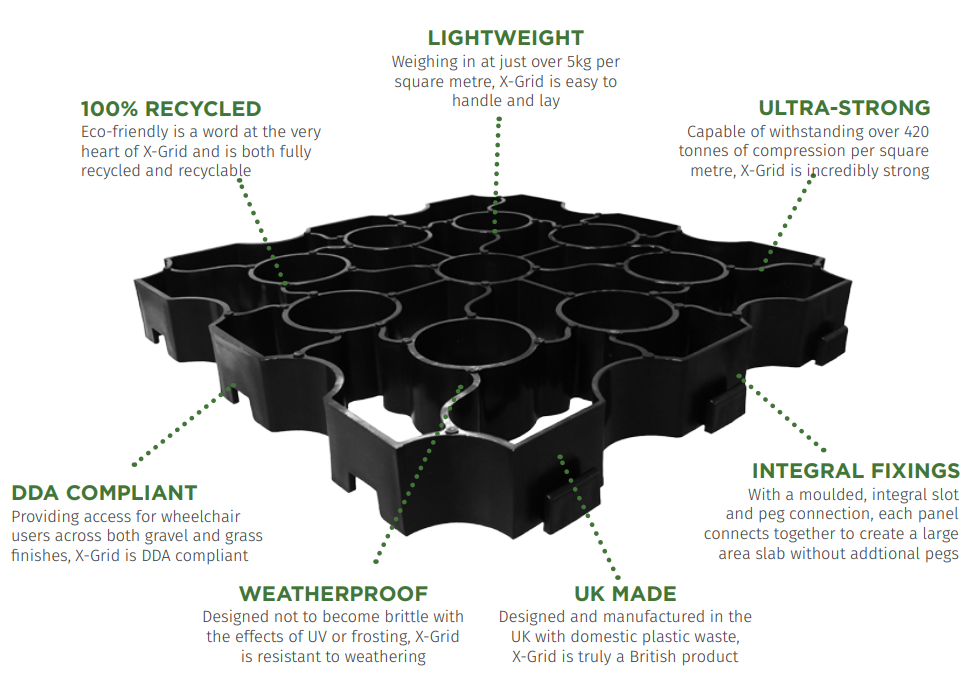 Made in Britain accredited
X-Grid has the following benefits:
Quick and easy installation
Lightweight and easy to handle
High compressive strength
Tight slot and peg connection
Reduces surface water run-off
Can be used as a non-slip surface
It is weatherproof, rotproof and UV stable
Can be cut to size
Prevents gravel migration
Can last up to 25 years
Is manufactured from recycled plastic
It is also the first product of its type to be "Made in Britain" certified. This internationally-recognised trademark promotes the very best of British manufacturing.