Preparing your Restaurant and Pub Beer Garden for visitors in 2021
Pub beer gardens can reopen on 12th April in the UK as part of Prime Minister Boris Johnson's roadmap out of lockdown.
By opening up an outdoor space to customers you are one step ahead of your competition who need to wait until May to open indoors.
What do you need to do to prepare your beer garden for the general public? This blog post explains.
Preparing Your Pub Beer Garden Flooring
The greatest issue with utilising an outdoor space for customers – along with the battle with the cold – is that car parks and grass areas are both prone to flooding.
Utilising an area prone to standing water and flooding – as was the case at The Manners Restaurant in Derbyshire last summer – does not make the most ideal seating area.
Here is what you can do to fix these issues.
What is Recopath Temporary Path Matting?
What are the benefits of Recopath?
The benefits of Recopath Temporary Flooring is that it is perfectly suited to outdoor events and can be used long-term in seating areas.
It is a recycled plastic and interlocking flooring panel system which can be quickly set up to create a solid area which customers can stand or walk. It can be used to raise chairs, tables and customers off the concrete floor and away from cold and moisture.
Fitted in the space of a couple of hours it can transform an entire space, making the venue feel warmer and more substantial.
Find out more in our case study here.
To find out more about Recopath and to order click here.
What is X-Grid Ground Reinforcement Grid?
X–Grid is the ultimate in ground reinforcement and gravel retention grid. It is ideal for creating a solid, durable and low-maintenance surface.
The product is durable, versatile and simple and is ideal for areas with large footfall whilst maintaining a clean and tidy finish.
The cells can be filled with any number of different materials – and it is world renowned with more than 1 million units sold worldwide. It is most common in industries including golf and leisure, landscaping and creates a solid foundation for garden buildings.
What are the benefits of X-Grid?
X-Grid Permeable Ground Reinforcement Grid is ideal for pubs and restaurants who want to take advantage of an outdoor grass space.
The X-Grid Ground Support has an immense loading capacity with strength of over 420 tonnes per square metre. It is weatherproof, suitable for battling UV and frosting, is 100% recycled and is lightweight.
It is used at Park Avenue Holiday Village in order to allow visitors to travel by car on site. The X-Grid was filled with a mix of soil and grass feed. The grass area then formed the grass access routes that can be used all year round.
As a result of installing the X-Grid Reinforcement Grid, Park Avenue Holiday Village had a much more accessible route network – allowing visitors to unload vehicles at the side of their homes (in stark contrast to previous years).
X-Grid is almost invisible while still providing a solid and stable surface for many years to come. The grass can be mowed over without hinderance, allowing access routes to maintained quickly and effectively.
How to install X-Grid

X-Grid requires an area to be dug an appropriate depth for the intended use:

Decide on the area to excavated and dig at a suitable depth depending on the intended purposes. This is typically around 200mm to allow for MoT hardcore layer, levelling sand and grid depth.
Install perimeter edging which is substantial enough to retain the grid installation.
Backfill by compacting MoT type 1 or 3 in the layers of 50mm to achieve a final depth of 150mm.
Lay and secure a sheet of geotextile membrane across the MoT sub-base area. Ensure that the membrane is flat to the surface by securing it to the ground using fixing pegs or pins.
Lay a 5-10mm thick layer of sharp sand to the entire area to level it out and create a granular bedding for the grid to sit on.
On the fully-formed sub-base, begin laying your X-Grid ground reinforcement grids. Starting in one corner, lay one panel at a time, simply connecting neighbouring X-Grid panels using the slot and pen snap connection. Repeat the process until the entire area is covered.
X-Grid can be cut using a hand or power saw in order to fit into a specified area or to navigate around obstructions. Avoid the use of X-Grid which are less than half of the original size of the panel. The X-Grid panels an then be firmed in place using a light vibrating whacker plate.
Next, fill your X-Grid with gravel or aggregate - around 10-20mm dimeter, well graded, clean and angular material.
If you find any low areas, refill these spots with gravel and compact again until you are happy with the finish.
Your X-Grid surface is complete and can be used immediately.
Read the Park Avenue Holiday Village case study here. Order the X-Grid Ground Reinforcement Grid.
What is TurfMesh Grass Reinforcement Mesh?
TurfMesh Grass Reinforcement Mesh is designed to be installed on existing or newly laid grassed areas – ideal for hospitality venues who do not have the ability the dig on their premises.
The product creates a resilient and durable grass surface which can be used as grass roads, for car parking and is also used to create temporary access routes for emergency services. 
Grass reinforcement meshes are made from high density polyethylene which is renowned for non-slip qualities, strength and durability. These products have the potential to last 20 years,
What are the benefits of TurfMesh?
TurfMesh Grass Protection Mesh can benefit outdoor venues that need a no-dig solution to protecting an existing surface. It is very easy to install on both flat and uneven ground and is highly discrete.
It is versatile, durable and non-slip and made from 100% recycled polyethylene it is eco-friendly.
It is used by The Grange Sports Club (used for Scotland international cricket matches, as well as hosting hockey, squash and tennis). They needed a solution to address surfacing issues on a large grass area at the club which was occasionally used and access route and vehicle parking during large events.
The TurfMesh has the ability to withstand the weight of cars and lorries and is easy to install. The process is simple and effective. The grass can then be left to grow to create a strong and natural looking surface.
It allows water to drain underfoot and protects against grass areas becoming boggy and muddy.
Grange Sports Club Grounds Convenor, Neil, said: "The grass has grown very well. There is still a bit of sand, which we dressed in, on the surface at the south end but we're very happy with the way it is working. We have a couple of One Day Internationals coming up in the next few weeks, Scotland v England and Scotland v Pakistan, so we are hoping the grass will look pristine by then."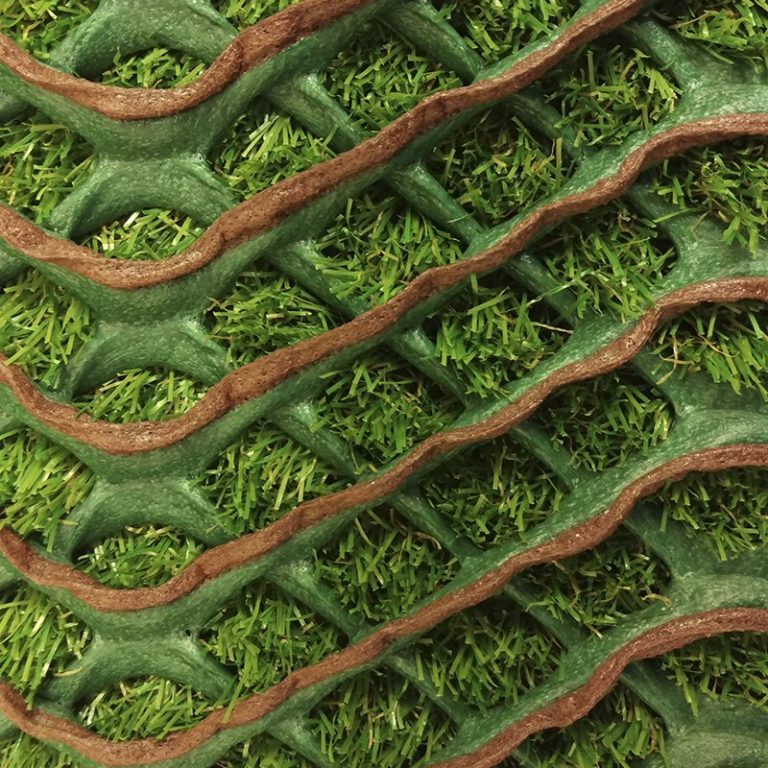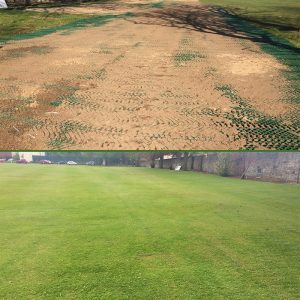 What is GrassMesh Grass Protection Mesh?
GrassMesh Grass Protection Mesh is ideal for grassed areas that require protection from foot and light vehicle traffic. GrassMesh is a lighter form of grass protection in areas intended for use by pedestrians and wheelchair uses.
It is highly flexible and can be used on flat ground and uneven surfaces. 
The design of the GrassMesh range ensures a discreet appearance that customers will barely notice while protecting the lawn from erosion.
What are the benefits of GrassMesh?
The GrassMesh is a much lighter-weight version of TurfMesh Grass Reinforcement Mesh. It is good at protecting grassed areas with a moderate amount of foot traffic.
GrassMesh spreads and reduces pressure that is put on the soil, protecting the root of grass and preventing erosion. 
It is good for fringe areas alongside paths or lesser used grassed areas. The structure is open and green, meaning the mesh is almost invisible under a healthy lawn.
What are Rubber Grass Mats?
Rubber Grass Mats are a highly durable and versatile product which can be laid on top of existing soil, turf or concrete. The flexible rubber mats provide both safety to the customer and improve aesthetics. 
They are used to protect grass blades and roots from erosion of foot traffic and can be simply laid on closely cut grass and pegged in place. 
These features ensure they are perfect for temporary events, paths and standing areas.
What are the benefits of Rubber Grass Mats?
Rubber Grass Mats are ideal for areas where people may go from outside to inside – as they help to remove mud or dirt from shoes.
The Grass Mats can be used on grassed areas to help fortify the surface. It improves safety and can help to improve the appearance of the beer garden.
Due to their porous characteristics, they are effective at allowing water to soak away quickly. They are non-slip and simple to use by simply laying them on a surface fixed down with pegs.
A Loopermat is an Anti Dust Matting Roll. They are available in rolls and can be laid in entrances and exits in order to keep mud and moisture at bay.
The Anti Dust Matting Roll draws dust and dirt away the top of the mat providing a neat and tidy entrance to your space or marquee. 
What are the benefits of using Loopermats?
The Loopermat Barrier Mat acts to create a positive first impression of your venue. It catches dirt and debris from footwear and tucks it away.
The Anti Dust Barrier Mat can be rinsed in a deep clean or shaken to remove dirt. It is built for long-lasting with characteristics which ensure it will not shed or rot.
Order the Loopermat here.
For more information about any of our flooring products for your outdoor hospitality venue, simply send us a message or call 01246 418144.