Resin Bound Mixer | SoRoTo
Using a SoRoTo forced action mixer is highly recommended by most installers and suppliers in the resin bound industry for a number of reasons.
First being the capacity of the mixers, our 100L mixer is the perfect size to fit the industry standard '4 bag mix' which consists of 4 bags of gravel and a tub of resin (a bag of sand can also be added). All of our mixers have a larger pan and mixing capacity compared to other manufacturers' comparable mixers, meaning that by using one of our mixers you will be able to create more material and cover a larger area in one mix.
Second the ease of use, our mixers are easy to move around site and transport around. From the 40L to the 200L, these mixers can be easily pushed around site by just one person and loaded on to a vehicle using SoRoTo's specially designed easy load wheels. The 300L can be moved around shorter distances by just one person or can be lifted and transported by crane around a site and can be loaded onto a large vehicle or even towed behind thanks to the ball coupling spare part.
Third being the robust and ergonomic design of each forced action mixer. Built with quality, efficiency and durability in mind, SoRoTo forced action mixers are all built to withstand the tough life of a building site machine. With spare parts still being sold for machines built over 20 years ago, you can be assured a SoRoTo mixer will last and continue to perform consistently for years to come.
Finally, quality. With specially designed & manufactured mixing arms and paddles to ensure every inch of the pan is covered and no material will be left unmixed whilst providing 30rpm, our mixers create consistent and quick mixes each and every time they are called into action regardless of the material in the question.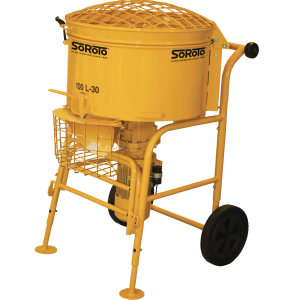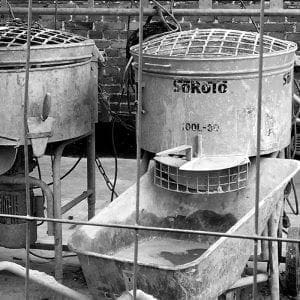 Picking the right mixer for the resin bound work you are undertaking is a very important decision. However to make that choice you need to be in possession of all necessary information to allow you to make an informed decision.
The SoRoTo 100L is our most popular mixer for resin bound gravel installations. The 100 litre machine is able to hold 4 bags of gravel and 1 tub of resin (and a bag of sand if required) which is otherwise known as a '4 bag mix'. Comparable 100 litre machines are not able to mix this much material and thus require customers who are wanting to mix 4 bags to purchase a larger mixer.
The SoRoTo 120L has a mixing capacity of exactly 120 litres and weight capacity of 280 kilograms. This is the right capacity to be able to hold and mix a '6 bag mix'. 6 bags of gravel, 1 and a half buckets of resin (plus a bag of sand if required). This is a harder amount to mix as using exactly half of a bucket can be challenging but can still be done.
The SoRoTo 200L is our second largest machine and is recommended for installers wanting to create an '8 bag mix' which consists of 8 bags of gravel, 2 buckets of resin and if applicable 2 bags of sand. Although, with such a large amount of resin bound being created, a larger team would be required to lay the gravel correctly before it began to dry and set.
SoRoTo's are the original and best forced action mixers on the UK market. For more information visit our forced action mixer page or contact us to speak to one of our specialist sales staff.
What is resin bound gravel?
Resin Bound Gravel driveways, patios and paths are becoming a regular feature of homes and businesses in the UK. Resin bound is a material that is created by mixing together specially sourced, washed and kiln-dried gravels and polyurethane-based resin binders in a forced action mixer. Creating a gloopy gravel mixture, this is then quickly and precisely spread and levelled in the required areas before being left usually overnight to completely set.
The increasingly popular surfacing technique that carries many benefits such as being permeable, strong, non-slip, long lasting and attractive has taken the country by storm with thousands of installations happening each and every week. With manufacturers of the gravels and resin stating that if installed correctly, resin bound can last up to 20 years thanks to its strength and flexibility (ability to withstand freeze-thaw) there is little wonder more and more people are turning to this type of low maintenance and highly beneficial surfacing.
With flooding becoming commonplace in the UK, there is an urgent need for more SuDS complaint surfaces to be installed within urban areas which is just one of resin bounds many benefits. Resin bound allows water to drain away naturally unlike concrete which has been the main surfacing choice for the UK for many years. SuDS complaint surfaces means less there is much less surface water which could potentially lead to localised flooding.
However, you must keep in mind that laying resin bound is not an easy task that just anyone can do. To lay a resin bound surface, specialist tools are required such as a forced action mixer, trowels, sledges and attendance to a specialist training course where you can learn how to mix and lay the material are very highly recommended. There are a number of factors that make laying resin bound a tough task from the mix quantities to the mix times and the material beginning to dry and set almost as soon as it leaves your forced action mixer.