Showing all 10 results
EcoLat – a strong, flexible, attractive and luxury edging system
Ecolat is a new generation luxury edging system manufactured from entirely post consumer recycled plastic. Available in grey or brown and in roll sizes of 25m, 10m and 2m we ensure you are able to order the correct amount for your next project. This decorative, strong, weather resistant and environmentally friendly edging is ideal for creating crisp and clean divisions between two or more landscaped areas such as garden borders, lawn borders, flower beds, gravel paths and more.
As every roll of EcoLat is manufactured from plastic waste which would otherwise be dumped into a landfill site or end up in the ocean, by using our EcoLat edging you aren't only creating beautiful divisions easily but you are also reducing the worlds waste slowly but surely. Also, as EcoLat edging is made from plastic, they take on plastic benefits so will not rot or rust from weather or UV erosion and will leave your separated landscaped areas looking clean and tidy.
EcoLat is also very simple to install. Dig a small trench and lay your Ecolat edging in to the trench, then directly behind the EcoLat at around 1m intervals, mallet EcoPic stakes into the ground before securing using two stainless steel screws per stake. You can learn more about our strong, recycled, attractive and versatile EcoLat edging and how to install them on the product page or by reading our EcoLat specification.
For more information on our EcoLat edging range or for some advice on which product would best suit your needs, please do not hesitate to contact us and speak to a member of our trained customer service team.
Related Blog Posts
To help our customers pick the right product and learn more about how our products can be used, we have compiled blogs which can be read by clicking the button below.
EcoLat A Strong, Flexible & Luxury Garden Edging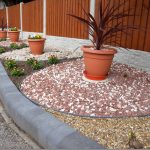 EcoLat is a strong, luxury and flexible recycled plastic edging product used to create separations between landscaped areas
read more ❯