Showing all 11 results
A large range of fully recycled plastic lumber
We currently stock a great range of recycled plastic lumbers, manufactured from 100% recycled non-degradable plastic waste. Available in a number of different sizes and colours, these lumbers are the perfect replacement for projects which traditionally include wooden planks or posts. Our versatile plastic wood is perfect for use as a decking sub-frame, fascia board, sleeper and even hoarding boards. Being attractive, durable and low maintenance alternatives to wooden planks and posts, each piece of lumber is strong, eco-friendly, wood free, low maintenance, weather and rot resistance meaning they can outlast their wooden counterparts and even be reused one finished with.
For more information on our range of recycled plastic lumber or for some advice on which product would best suit your needs, please do not hesitate to contact us and speak to a member of our trained customer service team.
Related Blog Posts
To help our customers pick the right product and learn more about how our products can be used, we have compiled blogs which can be read by clicking the button below.
Recycled Plastic Lumber Email Campaign - November 2017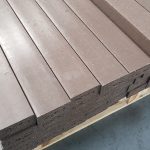 An email campaign from November 2017 highlighting some of the benefits of using our recycled plastic lumber range
read more ❯