Showing 1–20 of 48 results
Resin bound aggregates are decorative aggregate granules and sands for resin bound and resin bonded surfacing systems. The dried range of natural aggregates features an extensive selection of colours and sizes which are combined with resin for commercial or domestic use. The wide range of colour shades available provide an excellent alternative to paving or tarmac, this means that they can blend into the surrounding area.
Daltex Aggregates
Decorative or coloured aggregates are bound or bonded by clear or coloured resin – this is coated over the existing surface when it is solid and unbroken. The resin bonds with the original surface to create a brand new surface.
Quality resin is resistant to petrol or oil spills. They will also not fade or discolour as they are UV resistant. In commercial use, they can be used to create company logos.
Resin bound gravel can be used in a large number of applications including car parks, footpaths, bus lanes and road markings. By utilising different colours, any number of patterns can be created.
Resin is also a practical choice for patios. A resin bound patio is suitable for all weather conditions, it will not fade in sunlight and is long-lasting and aesthetically pleasing.
It is also an anti-slip surface, which is great for tyre traction. It is quick and easy to install. Resin bound aggregate is SUDS compliant and is fully permeable when used in conjunction with a porous base and suitable. Due to environmental benefits, such as reducing the risk of flooding when used as a gravel driveway, the need for planning permission is almost always eliminated.
Why should you choose resin bound aggregates over block paving, concrete or tarmac?
Resin bound aggregates provided many benefits. They are visually stunning, durable and hard-wearing and create a smooth finish. The solution naturally drains water, better traction for cars and people, and is weed resistant. It is also low maintenance, long-lasting and does not fade or discolour. Read more about why you should choose a resin driveway in this blog post.
To create resin bound surfacing, the aggregate is mixed with the resin into specific blends. The material can then be trowelled down to a smooth finish.
At GCL we stock and supply a very impressive and varied range of kiln-dried resin bound gravel aggregates which are perfect for use in the creation of a resin bound gravel surfacing which has become increasingly popular over the past few years. These specialist decorative gravels and aggregates have been carefully and thoroughly washed and kiln-dried to eliminate as much dust and moisture as possible, which is essential when installing resin bound gravel as any moisture can ruin the project. Our range of gravels are perfect for creating driveways, patios, pathways, courtyards and so much more. Browse our fantastic resin bound aggregate range to find the gravels which best suit your upcoming project.
For more information on our range of resin bound gravel aggregates or for some advice on which products would best suit your needs, please do not hesitate to contact us here and speak to a member of our trained customer service team.
Related Blog Posts
To help our customers pick the right product and learn more about how our products can be used, we have compiled blogs which can be read by clicking the button below.
Driveway legislation: all you need to know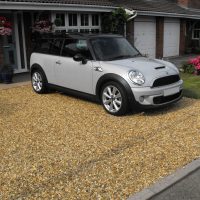 Gravel Driveway Grid View X-Grid Range driveway legislation: do you need planning permission to install a driveway? The legislation around laying a new driveway intensified following heavy flooding across the country...
read more ❯