Showing 1–20 of 51 results
At GCL Products, we stock and supply a fantastic range of resin bound kits which are made up of four 25kg bags of decorative, washed and dried aggregates along with the option of including a bucket of our specially formulated 6.5kg two-part UV stable resin binder. With over 40 different kits available, we will be sure to have the correct kit to match both yours and your customers' wants and needs. Our kits are ideal for creating resin bound driveways, car parks, pathways, patios, terraces, urban areas and much more, which if installed correctly will provide you with an attractive, durable, low maintenance, UV stable SuDs compliant and long-lasting surface. If you're unsure of how many kits you will require, there is a resin bound calculator on each product to show you exactly how many kits you will need to cover your required area.
What is a resin bound kit?
A resin bound kit is ideal to create your own driveway, patio, swimming pool paths and more – and the resin bound kit can ensure clean and great work. The impressive kits are made up of the correct amount of aggregate and resin to cover a space, they are easy to install and ready to be used within a couple of hours. Using resin bound kits you can completely transform your old space into a new, unique area.
Resin bound stone kits are high-quality natural stone decorative aggregates which are ideal for resin bound drives and paths. They consist of specially engineered resin bound stone mixes.
How do you install a resin bound kit?
When refurbishing or enhancing an area, apply resin binder to a base surface, such as concrete. Then scatter a layer of selected natural aggregate over wet resin.
This method of applying resin bonded paving means that the finished surface has a rugous texture. It has the appearance of loose gravel but the aggregate is anchored by the resin.
Are resin bound kits easy to install?
When installing a resin bound kit, using the correct equipment is essential. It can harden quickly and it can lead to uneven surface ripples if the driveway is not troweled down correctly, which can spoil your driveway.
How long does resin bound take to dry?
The setting time depends on the air temperature and how much catalyst (setting agent) is in the resin. In hot temperatures it can take two hours, but in colder temperatures it can take up to 24 hours. A faster drying driveway can therefore be covered in streaks and ripples as it can leave little time to finish laying the drive.
The Daltex Resin Bound Gravel Sample Cases consist of 46 stunning blends. It provides a sample for every occasion, with each sample kit consisting of varying sizes, textures and colours. The PermaPave resin bound gravel kits are BBA Approved and feature a comprehensive range of colours and shapes. A carry case means you take samples to locations with ease.
Every kit is available for delivery all over the UK or it may be possible to arrange for you to collect these from our warehouse in Chesterfield. Browse our great looking range of resin bound gravel surfacing kits to find your desired mix.
For more information on our range of resin bound gravel kits or for some advice on which products would best suit your needs, please do not hesitate to contact us here and speak to a member of our trained customer service team.
Related Blog Posts
To help our customers pick the right product and learn more about how our products can be used, we have compiled blogs which can be read by clicking the button below.
Driveway legislation: all you need to know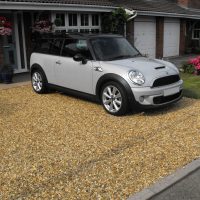 Gravel Driveway Grid View X-Grid Range driveway legislation: do you need planning permission to install a driveway? The legislation around laying a new driveway intensified following heavy flooding across the country...
read more ❯