Showing the single result
A range of landscaping and groundwork, galvanised steel J-pin fixing solutions
We currently stock one J-Pin fixing. This 6mm diameter, ribbed galvanised steel j-pins is a heavy duty fixing solution which can be used in conjunction with a large number of our grass protection meshes, grass reinforcement meshes, membranes and ground reinforcement products. Our j-pins are typically used on hard or uneven ground where normal u-pins cannot properly penetrate the ground or support the installed products. Available in packs of 1, 5, 10, 25 and 100 we are sure to be able to provide you the exact amount you need for an upcoming project. We would recommend studying the installation guide of the product you are wanting to fix with the j-pins to ensure you order enough fixings and that they would be the most suitable staple too.
For more information on our heavy duty J-pins or for some advice on which products would best suit your needs, please do not hesitate to contact us and speak to a member of our trained customer service team.
Related Blog Posts
To help our customers pick the right product and learn more about how our products can be used, we have compiled blogs which can be read by clicking the button below.
Tree Pits: All you need to know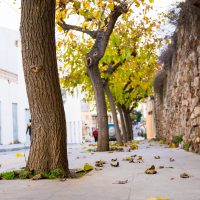 Tree Pit Frame View the Recessed Tree Pit Frame A complete guide to tree pits Tree pits provide many benefits to urban areas - including improving the mental and physical health...
read more ❯