Showing all 3 results
A wide range of versatile plastic fixing pegs for use with x-grid, grass mats, membranes and more
We stock a fantastic range of plastic fixing pegs and securing nails all of which are perfect for securing a variety of our groundwork, construction and landscaping products, each of our plastic pegs are strong, durable and weatherproof. Our plastic fixings are actually much safer than metal fixings too when used on projects near power cables, machinery and animals. Each of the plastic pegs is used for different applications and is better suited for use with different products. For example, the X-Grid anchor pegs are used almost exclusively with X-Grid ground reinforcement grids to hold and secure panels in place when they are installed onto a steep incline and unwanted slippage or movement is a real possibility. Where as plastic fixing pegs are not as heavy duty as the X-Grid pegs and are actually better suited to securing lighter duty products such as rubber grass mats, grass protection meshes and all of our membranes into both firm and soft ground. Finally, the plastic nails are paired with our GeoBorder lawn edging as the nails fit perfectly into the back of each GeoBorder edging piece to hold them securely in place for years to come. You can learn more about each plastic fixing peg we supply by visiting the product pages.
For more information on our range of plastic fixing pegs or for some advice on which products would best suit your needs, please do not hesitate to contact us and speak to a member of our trained customer service team.
Related Blog Posts
To help our customers pick the right product and learn more about how our products can be used, we have compiled blogs which can be read by clicking the button below.
Tree Pits: All you need to know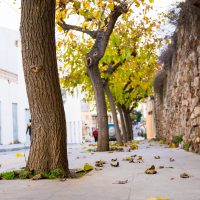 Tree Pit Frame View the Recessed Tree Pit Frame A complete guide to tree pits Tree pits provide many benefits to urban areas - including improving the mental and physical health...
read more ❯