Showing all 16 results
Mixing and Whisks
Mixing tools and whisks are ideal for industrial projects. Whisks and mixing paddles are designed to save time and effort when mixing compounds. These standard utensils are made from durable material, are easy to clean and easy to store.
Mixing and Whisks: Paddle Mixer
Paddle Mixers are efficient and durable handheld mixing devices. These are versatile mixing product to create a consistent and lump-free mixture. These machines are constructed to reduce mess while also ensuring comfort for the user. These are ideal to mix resin binders, plaster, cement, mortar and paint.
Mixing and Whisks: Whisks
Paddle Whisks are ideal for mixing a wide range of materials. The BA series are most suited to mixing low-viscosity materials such as paint. The GA series and SA series of whisks are suited to mixing high viscosity materials e.g. plaster, mortar, resin binder, plaster, mortar and tile adhesive. The SA-NEG series is best suited to mixing paint.
Find Out More
Browse our range of whisk types including electric whisks above. To find out more about whisking tools call us on 01246 418144.
Related Blog Posts
To help our customers pick the right product and learn more about how our products can be used, we have compiled blogs which can be read by clicking the button below.
New trade counter now open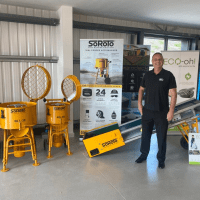 We've opened a new trade shop at our brand new premises at Sheepbridge Lane, Chesterfield, S41 9RX. Open Monday to Friday, we stock some of the most loved brands in the landscaping, groundwork and construction industry.
read more ❯