Showing all 7 results
See our wide range of woven, permeable and weed suppressing landscape membrane
Here at GCL Products we stock a great range of heavy duty, woven landscape membranes which are ideal for use on almost all landscaping projects to create a long lasting barrier between the ground and your chosen product or covering above. Installed under paving, rubber and edging products, our membranes help suppress weeds whilst remaining permeable to allow water and nutrients to drain away into the ground below and reduce surface water build up. Membranes can be used in conjunction with a wide range of our other products including X-Grid, soakaway crates, rubber tiles, rubber grass mats and even decking boards.
Woven membranes are the heaviest duty membrane sheets we stock and are ideal for controlling the growth of annual And perennial weeds. Available in a range of sizes from a small 2.1m x 1.5m sheet to a huge 1.5m x 100m roll, we have the right landscape membrane to meet your projects needs. Manufactured from woven polypropylene, these membrane sheets are strong and long lasting yet still allows water to drain naturally away. You can learn more about our heavy duty and tear resistant membrane on the product page or by reading our Woven Membrane specification.
For more information on our range of landscape membranes or for some advice on which product would best suit your needs, please do not hesitate to contact us and speak to a member of our trained customer service team.
Related Blog Posts
To help our customers pick the right product and learn more about how our products can be used, we have compiled blogs which can be read by clicking the button below.
Tree Pits: All you need to know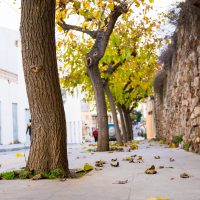 Tree Pit Frame View the Recessed Tree Pit Frame A complete guide to tree pits Tree pits provide many benefits to urban areas - including improving the mental and physical health...
read more ❯