Resin Bound Gravel Binder
Showing the single result
A range of specially formulated resin bound gravel binders to bind and solidify decorative aggregates
We have researched, sourced and now stock a great range of 3 resin bound gravel binders which are used to bind and solidify attractive kiln-dried resin bound aggregates in order to create a strong, permeable and low maintenance surface. Each two part polyurethane resin is perfect for mixing with decorative kiln-dried aggregates to create a continuous, attractive and SuDs compliant stone carpet surface. Binders are usually combined with around 100kg of washed and dried resin bound gravel, and in some cases sand, to form a sticky material which is mixed in a forced action mixer before being laid by a trained installer. Available in either UV stable, a gravel binder which will cure to a transparent gloss and will not yellow or discolour or non-UV stable which is works exactly the same but may discolour or yellow over a period of time. We will have a suitable binder for all of your upcoming projects. You can learn more about each of our resin bound gravel binders on the product pages.
For more information on our range of resin bound gravel binders or for some advice on which products would best suit your needs, please do not hesitate to contact us and speak to a member of our trained customer service team.
Related Blog Posts
To help our customers pick the right product and learn more about how our products can be used, we have compiled blogs which can be read by clicking the button below.
How to Install Rubber Grass Mats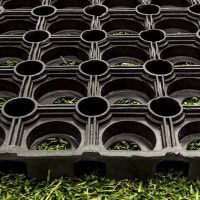 Rubber Grass Mats View Rubber Grass Mats An introduction to rubber grass mats Rubber Grass Mats are the ideal solution to ensure grass can withstand heavy pedestrian traffic whilst it continues...
read more ❯