Showing 1–20 of 51 results
All SoRoTo 200L Forced Action Mixer Spare Parts
The SoRoTo 200L is the second largest machine in our range of forced action mixers. It's huge mixing capacity of 468kg means it is a fantastic choice for larger projects as it is able to hold and effectively mix such a large amount of material. The SoRoTo 200L is a mixer which can take on a wide range of projects too, thanks to its adjustable legs you are able to access even the hardest to reach corners of a job. The 200L is versatile and suitable for mixing resin bound gravel, concrete, masonry mortar, screed, tile adhesive, epoxy resin, grouting, wet pour rubber and more. Thanks to its specialist design and manufacture, the 200L is powered by a 2.2kW motor and delivers 30rpm to produce a consistent mix each and every time it is used. With efficient but quiet motors and rugged, durable designs, each SoRoTo upright pan mixer is perfect for contractors who require high-capacity output machines which are efficient, portable and reliable.
We are the only SoRoTo authorised repair centre in the UK, Ireland or Channel Islands. We stock and are able to offer the entire range of 200L forced action mixer spare parts. The most popular spare parts for the 200L forced action mixer are replacement mixing arms and paddles and the dust controller which is used to heavily reduce dust emittance from dry material mixing – this proves how well SoRoTo forced action mixers stand the test of time even when used on harsh and unforgiving work sites. We can ship the spare parts directly to you or have one of our SoRoTo trained team fit the spare part onto your 200L forced action mixer. As the only authorised centre in the UK, you can be assured that we are the best and only choice for your SoRoTo manufacturer standard spare parts.
We hold stock of almost the entire range of SoRoTo forced action mixer spare parts including replacement switches, a new set of rubber or steel mixing blades or arms, a complete new motor and gearbox. Browse the 200L range of spare parts and if you can't find what you're looking for, click on the following links to see an exploded image of the other forced action mixers spare parts:
For more information on our SoRoTo 200L forced action mixer spare parts or for some advice on which product would best suit your needs, please do not hesitate to contact us and speak to a member of our trained customer service team.
Related Blog Posts
To help our customers pick the right product and learn more about how our products can be used, we have compiled blogs which can be read by clicking the button below.
New trade counter now open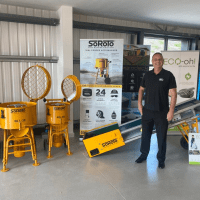 We've opened a new trade shop at our brand new premises at Sheepbridge Lane, Chesterfield, S41 9RX. Open Monday to Friday, we stock some of the most loved brands in the landscaping, groundwork and construction industry.
read more ❯