Showing 1–20 of 36 results
All SoRoTo 40L Forced Action Mixer Spare Parts
The SoRoTo 40L is the smallest forced action mixer in our range with one person able to transport it with ease. The 40L is designed to be a super portable mixer for contractors who need a small but mighty machine – weighing just 64kg and standing over just 1 metre in height, it was initially created for tiling and masonry work in mind but was soon utilised by people in other industries. Able to mix up to 95kg of materials, you can mix your plaster, concrete, render or mortar exactly where you need it due to the 40L forced action mixer being narrow, light and able to fit through standard doorways and up stairs.
We are the only SoRoTo authorised repair centre in the UK, Ireland or Channel Islands. Due to this we stock and are able to offer the entire range of 40L forced action mixer spare parts. The most popular spare parts for the 40L forced action mixer are the dust controller which is used to reduce dust emittance from dry material mixing and replacement mixing arms – this proves how well SoRoTo forced action mixers stand the test of time even when used on harsh and unforgiving work sites. We can ship the spare parts directly to you or have one of our SoRoTo trained team fit the spare part onto your 40L forced action mixer. As the only authorised centre in the UK, you can be assured that we are the best and only choice for your SoRoTo manufacturer standard spare parts.
We hold stock of almost the entire range of SoRoTo forced action mixer spare parts including replacement switches, a new set of rubber or steel mixing blades or arms, a complete new motor and gearbox. Browse the 40L range of spare parts and if you can't find what you're looking for, click on the following links to see an exploded image of the other forced action mixers spare parts:
For more information on our SoRoTo 40L forced action mixer spare parts or for some advice on which product would best suit your needs, please do not hesitate to contact us and speak to a member of our trained customer service team.
Related Blog Posts
To help our customers pick the right product and learn more about how our products can be used, we have compiled blogs which can be read by clicking the button below.
5 steps to make mortar or concrete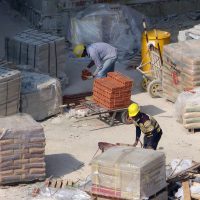 View Forced Action Mixers a guide to mixing cement to make mortar or concrete Cement is a material that can be utilised to bind other components together to make robust...
read more ❯